Journeys No. 10: Oaxaca, Mexico
Everything you need to know about Mexico's dynamic gem of a city
The Definitive Guide to Oaxaca
How's this for making lemons into lemonade—or limes into margaritas: In 1931, a magnitude 8.0 earthquake rocked—and destroyed—much of Oaxaca, the capital city of the Mexican state with the same name. In the aftermath, surrounding communities came bearing gifts representing their village's specialties, from weaving to pottery to pineapples. They also brought local dances and songs. The governor wished to share the diverse wealth of indigenous Zapotec culture, and a festival called Guelaguetza was born. The word translates to "contribution" or "reciprocal exchanges of gifts," and it's a lively, not to mention vibrant, tradition still held every July.
This story, versions of which I heard from several locals, sums up what's so special about the colorful home of just about 260,000 people. It speaks to their generous spirit and deep dedication to craft and custom. And it explains why several times over the course of a week I heard boasts about Oaxaca being the place where the world's first kernel of corn was discovered, and listened happily as many waxed poetic about Oaxaca's seven types of mole, the ubiquitous and celebrated sauce made with a couple dozen ingredients, chocolate to chili. (Most swear the best mole is the one their abuela makes, but with some encouragement they might reveal the local spot serving their favorite version—if you promise not to tell grandma.)
For these reasons and many more, Oaxaca is an undeniably charming city I highly recommend visiting sooner rather than later. And that's not my mezcal buzz talking. To me, it was incredibly appealing that while strolling—and at 5,100 feet you definitely want to keep the pace leisurely—along stone sidewalks and ducking inside flamboyantly bright restaurants and shops I heard virtually only Spanish spoken. Most Oaxaqueños do speak some English but, unlike in voguish San Miguel de Allende (like Oaxaca, a UNESCO World Heritage Centre), it's not their default language, since far more Mexican tourists than American come to appreciate this mecca of mole, culture, craft and, yep, mezcal.Oaxaca is quite walkable, and wonderfully safe, too (aka fantastic for families). Perhaps even better, it's affordable—I felt we got such value for our money across the board. The people are exceedingly friendly and proud of their culture; nowhere have I encountered people as passionate about educating visitors on their distinct heritage. And they have good reason to want to keep it alive. The woven rugs made for generations in Teotitlan del Valle fit as beautifully in today's contemporary design conversation as they have for centuries, and the architecture of Mitla—probably my favorite archaeological site I've visited anywhere—is not only awe inspiring in its angles and carvings but is still standing, despite the Spaniards' attempts at demolishing it (ironically, their own later buildings didn't fare as well as the ruins during earthquakes).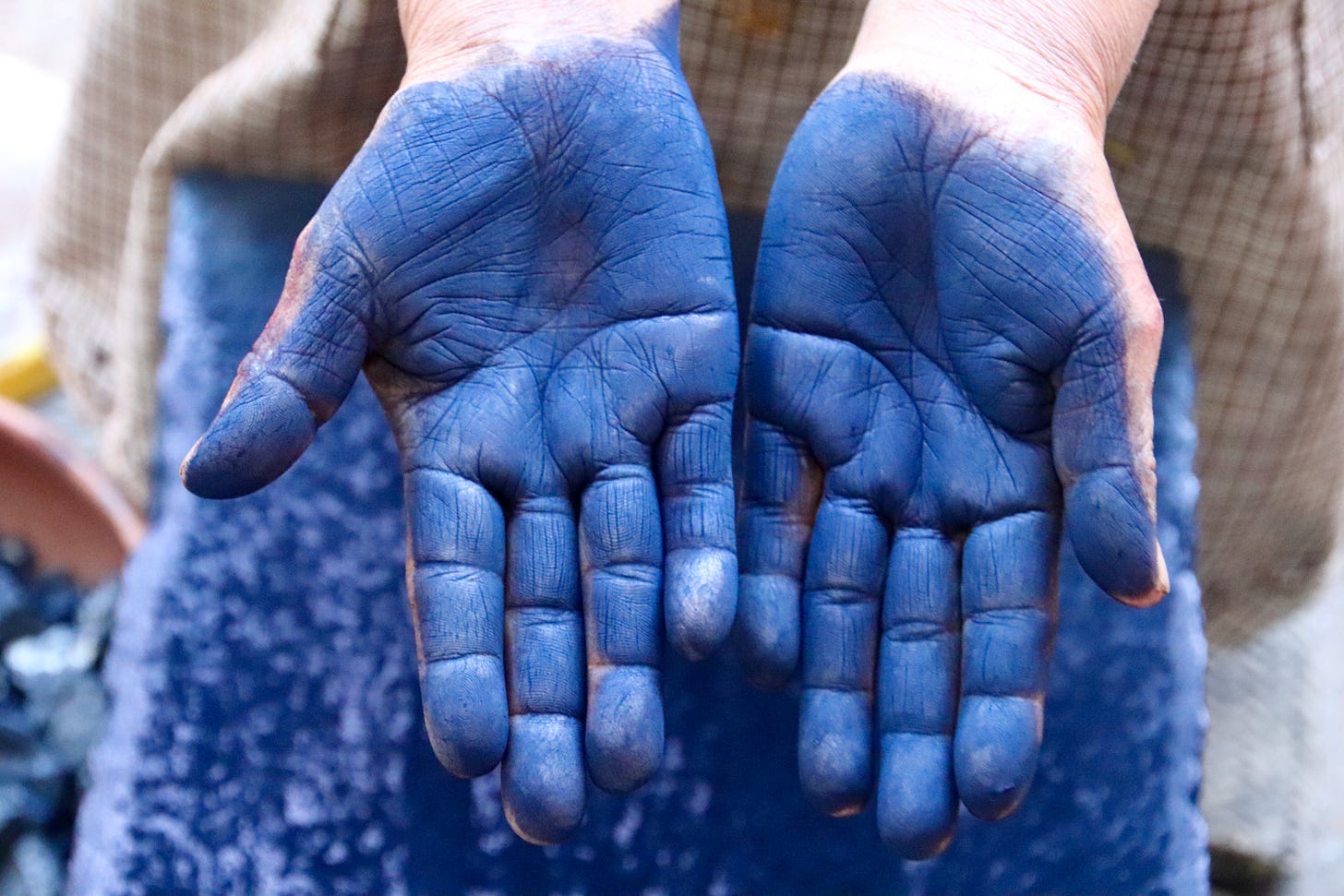 There are many fascinating things to see, smell (handmade corn tortillas seem to scent the air), eat and learn. Like discovering how cochineal parasites on nopal Castillo cacti become gorgeous carmine red dye that was once more valuable than gold. (When mixed with lime juice it magically becomes brilliant orange, with limestone, lilac!). Or finding out about Oaxaca's third gender, muxe (prounced moo-she), a still-occurring pre-Hispanic practice in which the last son in a family is raised, educated and dressed as a woman. "They say they have the duality, the best part of a woman and man in one body together," my guide, Antonio, explained of what's considered an honor. "From the man it's strength to be able to carry and take care of the parents. Everything else is from the woman—they're more patient, more kind, they do everything better." Of course, there's plenty to debate about this, but I appreciate how much they value women's contributions.
Oaxaca is enticingly festive over the holidays, iridescent fringed piñatas suspended in every intersection and an excess of artisans from the state bringing their wares to long tented markets for two-week Muestra Artesanal pop-ups. But July is the most exciting time to go, for the annual Guelaguetza dance festival. The weather is fairly warm all year round. (You can fly nonstop from LA, Houston and Dallas, or through Mexico City easily.) A long weekend will leave you wanting more, as there's enough going on to easily fill a week—especially for enthusiastic eaters and imbibers of the smoky spirit so trending in the U.S.
On that note, I'd advise fully embracing all the flavors of Oaxaca like the locals, heartily. "Here in Oaxaca," we were told at an artisanal distillery at the start of a tasting, "we drink mezcal in kisses, not in cups." I found that that somewhat romantic instruction is actually a great way to approach the city, not in quick gulps or rapid-fire shots but slowly, appreciatively, sweetly. Below are my personal highlights to help guide your own Oaxacan adventure—salud!
Sleep!
Oaxaca is delightfully free of chains and large hotels, so embrace boutique-style boltholes or even Airbnb.
We opted for this hidden gem of a five-room B&B along the centuries-old aqueduct and loved it. The cozy rooms featuring colorful Oaxacan crafts were a perfect place to crash after all-day explorations, and the rooftop lovely for morning yoga or sunset beers. Each morning we ate a tasty breakfast—think chilaquiles and mushroom quesadillas—around a live-edge table under the blue sky.
If we'd wanted to spend a bit more money we'd have gone for this renovated 18th-century boutique hotel with seven chic rooms highlighting contemporary Oaxacan art and design, set around a patio and swimming pool.
Colonial meets contemporary in this restored boutique property set in the middle of all the action, with 10 warm, elegant timber-clad accommodations named for mezcal agave varietals. Whether you're a guest or not, head upstairs to the rooftop to kiss their house label before the sun goes down.
Large and luxurious at 91 rooms, this relatively sprawling hotel in a 16th-century convent blocks from the church of Santo Domingo de Guzmán offers a taste of Guelaguetza every Friday night with ticketed dinner and dance shows under the dramatic vaulted ceilings of the former chapel. There's a pretty pool, too, and supposedly great breakfast.
Eat!
Mexico City may be the foodie capital of the country, but I think Oaxaca is right up there—plus far safer and more approachable. And you won't find this much mole anywhere else in the world. On my next trip I'll learn to make it at Casa de los Sabores cooking school, and try Sirilio's ceviche, Sabina Sabe's apparently primo cocktails, and La Mezcaloteca's library-like collection of mezcal. Don't forget to make reservations!
I'm still daydreaming about the tenderest sous vide free-range chicken with bold, savory and perfectly spicy deep red tesmole costeño sauce and rugged grits I ate in this beautiful restaurant with high timber-beamed ceilings and pink upholstered chairs—that's how memorable it was. The most epic mole—scratch that, sauce—I've ever had makes it a must in my book.
Walking through the kitchen to reach this restaurant sets the tone and amps up anticipation of what's to come, since there are no menus for the prix fixe surprises to come. The atmosphere created by star chef Enrique Olvera (of Mexico City's Pujol and San Miguel de Allende's Moxi, where I once ate dinner two nights in a row) and Mexican architect Javier Sánchez in the al fresco restaurant and Spanish moss-dipped garden (there's also a very cool minimal accommodation on Airbnb) is enchanting, as is the locally sourced cuisine, beautifully plated and paired with Mexican tipples of all types. (Tip: Take a taxi as it's a bit removed from the city center.)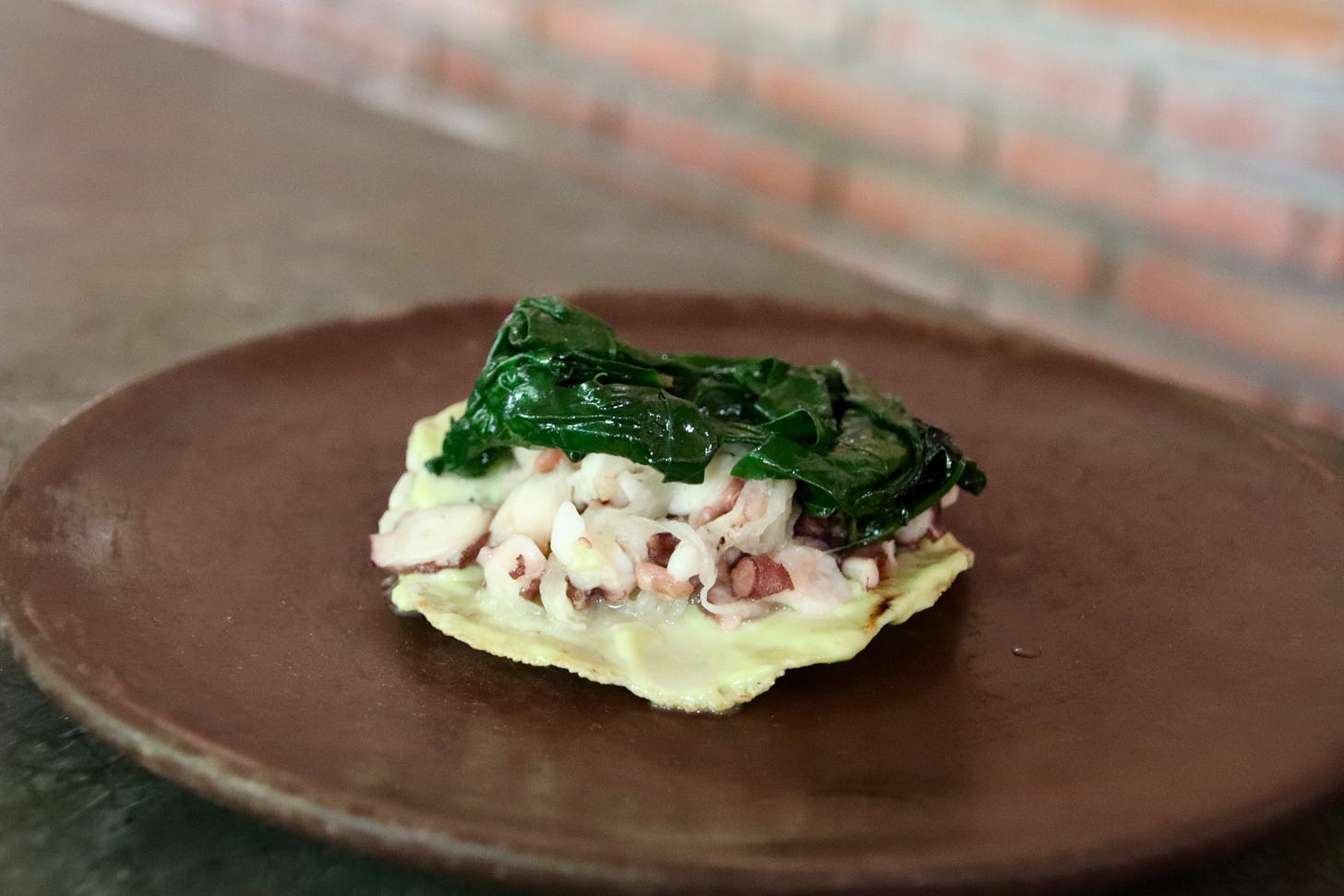 Alfonsina
Chef Jorge León's c.v. is bursting with notable cooking credits but he decided to open a breakfast- and lunch-only eatery in his family's home in San Juan Bautista la Raya, by the airport. It feels like the best-kept secret (you have to WhatsApp him to get a booking, at +52 55 2659 3941) until you get there and realize you're not the only one in on it. Grab a beer or mezcal and wait for the delights to emerge from the brick kitchen—like a comforting tostada with octopus, spinach and special mayo, or robalo (snook) with huitlacoche mole.
This artisanal mezcal distillery outside of Oaxaca didn't make my list because of its superior spirits—and after sampling some 16 of them and buying several bottles of Madrecuishe and Tepeztate I can attest, they are excellent—but its mind-blowing quesillo fundido. I can hardly explain how in love I was with humble pot of stretchy, salty cheese, chorizo and mushrooms. Their tlayuda (a very traditional meal comprising a massive tortilla slathered with pork fat and topped with black beans, meat, quesillo and avocado) and light yet spicy black mole were also excellent.
Look for the most peeling of blue facades and you'll have found this temple of baked goods. Where do I start? There are great doughy pizzas, pastries, massive English muffins, crusty breads, and cookies sandwiched around gingery spiced frosting. I insisted on eating here several times, and still can't get over the broccoli and goat cheese sandwich.
Itanoní
If you want to see how the tortillas are made, head to this casual eatery celebrating all things corn. The menu is in Spanish, and the staff don't speak much English, so just tick off one from each category—quesadillas, tetelas, memelitas, tostadas and more—and savor the journey. Wash it all down with a craft beer or goblet of jamaica (hibiscus) agua fresca.
Request a rooftop table and mentally prepare to dip outside your comfort zone at this restaurant showcasing authentic flavors of Oaxaca—bugs and all. There are flying ants, grasshoppers and more making cameos in interesting, original dishes best suited to adventurous eaters.
El Milinario
"Only locals know about Milinario, they don't make promotion on the Internet," said our guide Antonio of the El Tulé breakfast spot where he orders enchiladas with coloradito mole and hot chocolate. The chocolate in Oaxaca is so rich it's traditionally made with water, not milk, and is served in a big bowl with a piece of bread for dipping.
Gozobi
Simple, traditional Oaxacan dishes done very well are what we found at this cute spot with a rooftop, along with my favorite cocktail in the city, a smoky, fruity maracuya mezcalito.
See!
There's no doubt you can enjoy and savor Oaxaca on your own, but I found the experience incredibly enriched by the encyclopedic knowledge and insider recommendations of the guide we hired for private tours, J. Antonio Moctezuma Garcia of Wanderlust.
Mitla
If you appreciate archaeology or architecture you'll love Mitla, considered the "city of the dead" in Zapotec times—Antonio encouraged us to think of Coco for comparison. The ruins of palaces built in 950 and formerly used by shaman are etched with 17 unique repeating geometric designs that each symbolize an important element like rain, mountains, corn and water. Aesthetically it's incredible to wander through, especially while listening to stories of its singular history.
Due to poor planning we didn't make the two-hour guided tour of this supposedly stunning public botanical garden designed by Zapotec artist Francisco Toledo and abutting the Santo Domingo church. Tours are mandatory to see the diverse indigenous flora, and they only happen in English on Tuesdays, Thursdays and Saturdays.
Monte Albán
Oaxaca is encircled by mountains, and around 800 BC the Zapotec chose the tallest peak to flatten (over the course of 300 years) and build the first city in Mesoamerica. I found the UNESCO-protected archaeological site as if not more impressive than Machu Picchu, considering it was constructed over the course of 1,300 years and remains in shockingly great shape. Intriguing remnants of structures and spaces include an astronomical observatory, an amphitheater where shaman used copal smoke and secret tunnels to appear magical as a tool of social control, and the ball court where people "played" for the glory of being sacrificed.
Museo de las Culturas de Oaxaca
My favorite parts of this museum were the 17th-century convent's lofty architecture and the treasures from Monte Alban's tomb 7, including a turquoise-encrusted human skull and jewelry I'd eagerly wear today if given the chance.
El Tule
If you ever need a landscaper, find one from El Tule, a little town outside Oaxaca famous for El Árbol del Tule, the world's girthiest tree. The almost 2,000-year-old cypress is spectacular, with a circumference of 210 feet. A 10-year-old guide hilariously showed us with his laser pointer animals, objects and people found in the trunk's undulations, from a sleeping elephant to the Phantom of the Opera and Jennifer Lopez's butt. Also in the town is the appointment-only artisan boutique Mexichic, and a woman named Venus conducting readings to discover your protector animal and ascribed destiny.
Speaking of, this gallery in the center of Oaxaca pays homage to the concept with exquisitely carved and painted alebrijes, prolific around local markets. The staff will consult a book to find your protector and spirit animals, along with the personality traits they imply. You might be shocked by the accuracy.
Tlacochahuaya church
"Normally I don't recommend people to visit churches in Oaxaca, because we have too many of them and they're very, very similar," said Antonio. But this one is his favorite, and I quickly understood why upon stepping inside. Built over 100 years starting in 1585, it's coated in intricate, lyrical crimson curlicues and flowers painted in cochineal, at the time more valuable than gold. Interestingly, the abundant flowers depict the Zapotec people's most important offering to their gods. Antonio explained, "the Spaniards converted the Zapotec to the Catholic religion in their mind, but not in their hearts, so they let them use this decoration." When you go, ask Antonio for the Virgin of Guadalupe story.
Teotitlán del Valle
Warning: It's nearly impossible to walk away from a 5th- or 8th-generation family's loom in the famous village of weavers (whose name means "land of the gods") without a tapete, rug. But still go, seriously. It's one of the oldest towns in Oaxaca. Seeing the start-to-finish process at Casa Don Juan Zapotec, where Antonio took us and a quiet, slight young man named Juan Carlos patiently demonstrated every step, was captivating. Using only natural elements and materials they make the most awe-inspiring rugs imbued with meaning and messages via ancient symbols carved into stone at Mitla.
Hierve el Agua
Full disclosure, I didn't make it to these petrified rock formations, but if I'd had time I would have gone with the local responsible tourism company Zapotrek, whose off-the-beaten-path adventure involves hours of beautiful hiking, to a secret waterfall-fed swimming hole in an ancient canyon and the main natural attraction. (Their cycling tours piqued my interest, too!)
Shop!
Leave extra room in your luggage—or better yet bring an empty duffel!—for all Oaxaca's eye-popping array of artisanal goods. And hit the markets, too!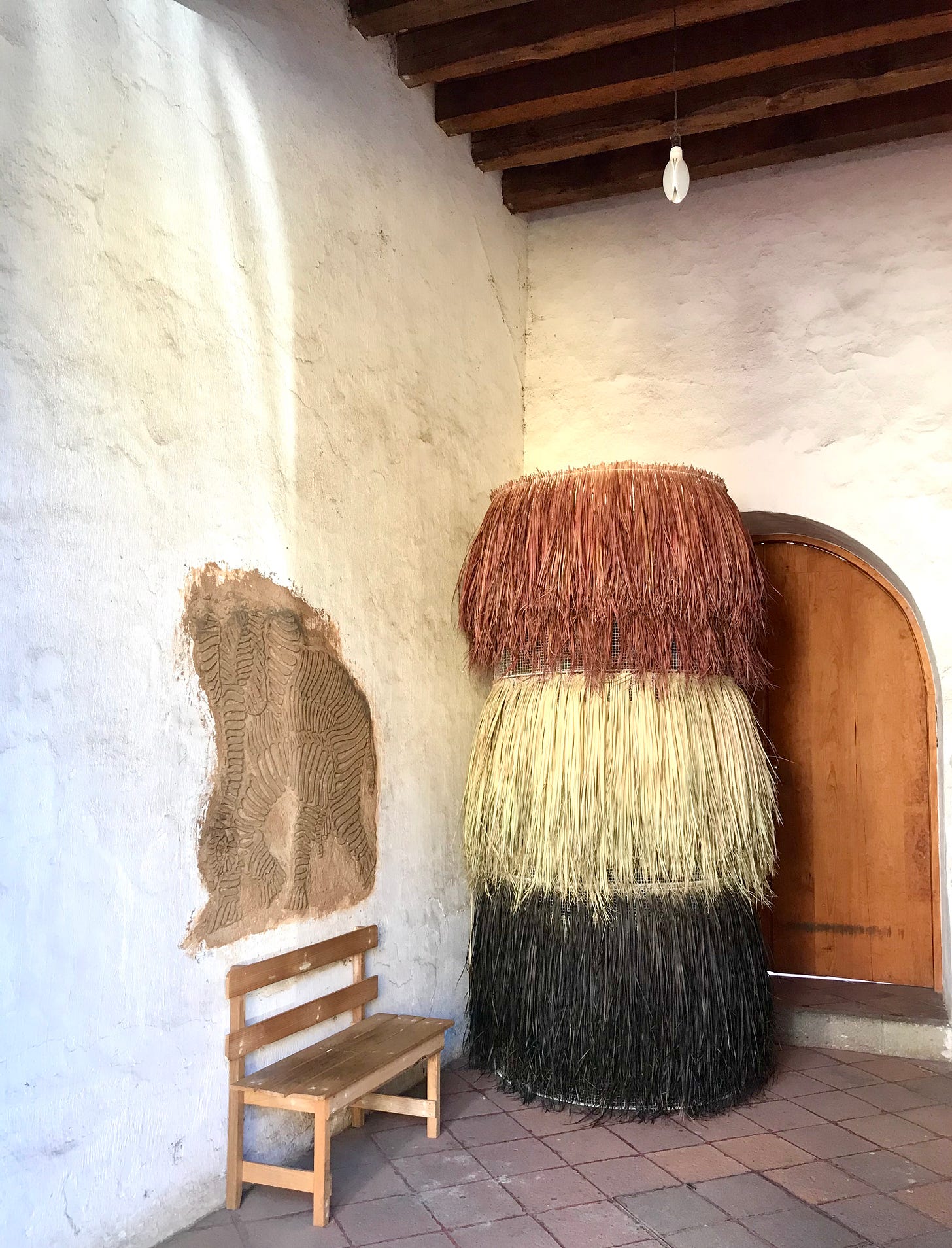 I walked out of this airy boutique with not only an indigo-dipped cotton tunic and woven straw hat but a pair of beautiful blue pillow shams that are a happy addition to our bed at home.
Tradition is honored in this small, bright shop printing and selling intricate woodcuts and linocuts of all sizes and subject matters from a collection of local artists.
Across several rooms, Tienda Q is a gallery-like concept store featuring Mexican designers—many local to Oaxaca—with a delectable selection of jewelry, clothing and accessories ranging from avant garde to diaphanous to joyously bold.
The Instituto de Artesanias Oaxaqueños was closed when I was in town, but from what I could spy from the windows of its large restored colonial home—everything from ceramics and carvings to textiles and tapetes—I would have done a lot more damage.
Near Monte Alban is the village of Santa Maria Atzompa, famed for its green-glazed pottery. But Antonio took us to see ceramist Laló Martinez who, working on a hand wheel in his family's home, is evolving the centuries-old tradition by throwing dishes, mezcal cups, bowls and more with appealing texture, silvery burnt finishes and little skulls, his signature. (Boulenc uses his dinnerware.) If you don't make it out there, Collective 1050 Grados in town sells elegant ceramic pieces made locally with a similar aesthetic.