Journeys No. 11: Namibia
A visual journey through Africa's spectacularly diverse nation, where far more animals than humans roam.
Namibian Magic
Some folks say Namibia is a great second or third African safari destination. They claim it doesn't have the volume of wildlife of, say, Kenya or Tanzania, to hold the attention of first-timers. That it's more about the scenery. Yet for those very same reasons I feel it's an incredible maiden voyage. For one, the landscapes are epic, reason enough to go if you're someone who enjoys nature even a little. Safari spots often have one-note terrain, but Namibia bursts with variety. As for the animals, it's actually home to the world's largest free-roaming black rhino population, and a quarter of all wild cheetahs. One misses out on caravans of tourists bumping around on 4x4s with herds of wildebeest as iPhone fodder. Instead, the experience of rolling in a safari vehicle across the plush sand of a riverbed in hopes of glimpsing one of four known elephants in the vicinity creates an intimacy I truly savored. Not that I hated being surrounded by 16 of the majestic creatures elsewhere in the country. But that riverbed was so implausibly quiet I actually heard the breath and footsteps of an adult male as he ambled slowly to a trickle of water for a sip and splash through his expressive trunk. Fixated, I studied only him, with no other life form to distract me from his monumental presence in the grandest of settings.
I was allowed time and space in that same environment to compose striking images, juxtaposing a pair of lunching oryx against a garnet wall and cascading dune. The relative starkness of Namibia's environments hypnotized me into a meditative state as I moved through mirages glinting on long desert drives, soared over massive plateaus in what felt like an IMAX movie, and bumped over landscapes of pink-dusted sand and whale skeletons carved and weathered by wind and salt. I'll be returning to explore more of the massive country, so safe and easy to navigate (if not via small charter flights like Scott Dunn arranged for me, then self-driving in a rental car on long, empty stretches of hot tarmac). It's more affordable than its neighbors, too. A constant stream of new and renovated lodges and camps—dynamic and environmentally aware in their design—keep teasing me with their magic. And I'm intrigued to meet and learn more about the cultures of Namibia's indigenous tribes over long, slow drives. I could go on, but instead I'll let the photographs (and, yes, some words!) do the talking.
Just about a half-hour drive from the airport is Omaanda, a Zannier resort, on a 9,000-hectare private reserve that feels like the middle of nowhere. Though I wouldn't truly know the definition of 'middle of nowhere' until I stepped onto a small plane a few days later—Namibia is about the size of two Californias, with 6% of the population of one. Aesthetically, it epitomized bush luxury, with individual round, thatched-roof huts inspired by traditional Owambo architecture, indigenous artifacts; a soft, earthy palette; and the dreamiest beds and armchairs, too. I'd happily move in, if only to have as neighbors meerkats who stand like soldiers at attention.
You might ask, how does one find themselves standing (shakily!) on packed earth looking up at a cheetah holding court in the safari vehicle? Talk about role reversal. While at Omaanda I spent time at N/a'an ku sê—an innovative wildlife sanctuary and conservation charity next door—and was fortunate to take a walk with cheetah brothers (rescued as cubs) who seemed totally tame one second and the next took off like lightning in pursuit of breakfast. Did you know they can run almost 80 mph?
N/a'an ku sê is the work of one of the most passionate and badass women I've ever met: Marlies van Vuuren, a French-manicured seventh generation Namibian who's friends with Angelina Jolie and sleeps with orphaned baby baboons in her bed. Here she's feeding one, which I unwittingly did, too. The instant someone handed me a bottle an infant scampered up my leg into the cradle of my arms, clutching the milk with her tiny, hairy hand. (N/a'an ku sê offers very cool volunteer opportunities for animal lovers and ecotourism packages.) Marlies took me to Shiloh Jolie-Pitt's sanctuary to visit its newest resident, an orphaned two-week-old white rhino. Like a baby dinosaur out of The Land Before Time, Hope, clambered around the boma with goats and, upon hearing Marlies, tried to squeeze her lumpy head through the fence. When I reached to pet her snout, her gummy, toothless mouth engulfed my fingers, and Hope slobbered and sucked them as a happy tear rolled down my cheek.
After flying over a lattice of sand dunes to the socked-in coast, and driving along the churning Atlantic Ocean, bones of shipwrecks and whales revealing its danger, I arrived at Shipwreck Lodge, a Natural Selection camp inside Skeleton Coast National Park. Jaunty nautical "wrecked" cabins of recycled materials perched over the sea, which could change from sun-drenched to shrouded in the blink of an eye. There, I caught my dinner surf-fishing in icy waves, tracked elephant footprints down to the water's edge, and read up on the mysterious and punishing region's history.
What struck me most in this environment was its pervasive silence—even the vehicle hardly made a sound. In slow motion we crawled up and down dunes, me on top in a fleece-lined poncho noticing the smallest details—think minuscule patches of orange lichen—and subtlest changes in scenery. A shift occurred at the geological wonder Clay Castles, where I crunched over mica, ruby garnet sand and crystalline fairy dust as we hiked to stunning panoramas that gave context to the empty environs.
After multiple safaris, what piques my interest is observing odd animal behavior, and these male desert-adapted elephants delivered. Against apricot sand, they seemed to be whispering secrets and playing as one continuously flopped his trunk all over the other's head and tusks. It was as if they were doing contact improv, contorting body parts and striking silly poses as they moved in unison across the riverbed.
There's nothing quite like waking at 5:30 a.m. in anticipation of tracking wild black rhino in remote northwest Namibia with the help of a dozen rangers and Save the Rhino Trust guards across terra-cotta hills that appear endless—and empty. Prince William, the Duke of Cambridge, had done the same at Hoanib Valley Camp mere weeks before me, apparently spotting one after five hours. On our journey, dust billowed behind the truck bed as the spotters carefully attempted to stay upwind of the rhino we were after. These animals hear and smell very well and run if they get a whiff of something—or somebody—strange. Jackals and giraffes, rabbits, elephants and springbok, we saw plenty of species along the way. Hopes were dashed and restored many times over hours as we lost tracks and rediscovered them, climbed, descended and lurched over increasingly rugged land. This dust-coated Hartmann's mountain zebra, part of a small dazzle, appeared to me the freest of all the creatures.
Our high-intensity scavenger hunt paid off at 1:25 p.m., when we found the elusive female rhinoceros we'd been chasing. She was resting next to a euphorbia damarana, the milky sap of which poisonous. We had walked the last 15 minutes, keeping our distance and watching quietly for a spell. Regal and somehow graceful, she held her perfect horns—which are actually keratin—like a crown.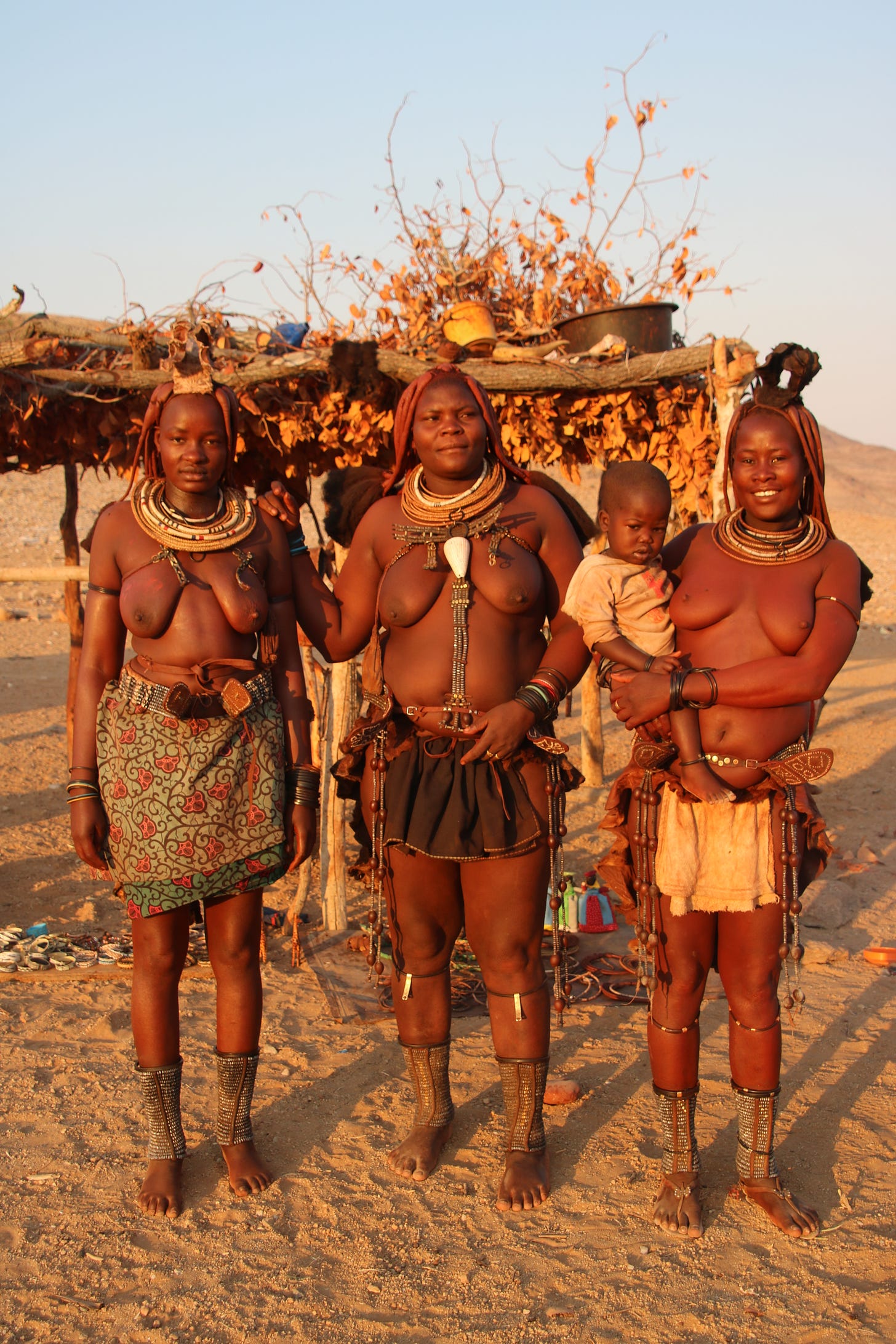 En route to the airport, my guide, Frank, took me to visit a small Himba village and get a glimpse at some of the fantastically ornamented women's rituals, which include applying a blend of foraged ochre and a sort of cooked cow's butter to their velvety skin daily. All their accessories are imbued with meaning. The Himba have the most unique beliefs and customs of all Namibia's ethnic groups, rejecting most elements of modern life.
Safarihoek lodge, my last safari stop, introduced a new kind of atmosphere, one of abundance. The immense Etosha Heights Private Reserve is stocked with plenty of water holes enticing large numbers of wildlife. My guide, Mike, with an Idris Elba vibe and impressive brass bracelet collection, was a wealth of knowledge—and the human embodiment of perseverance through trauma. Incredible story made short, he was born in an Angolan refugee camp during the long war for independence in which his parents fought, shipped to a convent in Cuba for his schooling as part of a Communist aid program that saw his siblings sent to places like Czechoslovakia and East Germany, and adopted before he'd ever stepped foot in his homeland of Namibia. After its independence in 1990, he earned a master's, guided overland safaris, married an American physician, and become Natural Selection's head guide. But about this giraffe: They spread their front legs wide to drink water, but only in short stints. Beyond a minute they'll black out, and without a buddy standing guard, they could get attacked by a predator. After each long sip, the statuesque animal snaps their legs together effortlessly like a gymnast sticking their landing.
Mike arranged this flawless photo op on my last night—I'm pretty convinced he's understood and respected by all creatures, human and otherwise. We sipped G&Ts as the fireball dropped and glowed, and I commented on his biopic-worthy life. "It is the only one I have known," he replied with a shrug. I'd been asking all my guides their favorite animal, and it turned out Mike's favorite is the leopard, beautiful and adaptable. "It can live anywhere in the world, it's suited for every place, and it survives wherever it goes," he explained perfectly.
Further reading
Namibian model Behati Prinsloo is on a mission to save rhinos