Journeys No. 20: Beirut, Lebanon
The tragic explosion in Beirut brought back my eye-opening visit to the resilient city that's so easy to love.
Habibi, My Love
When I got a wild hair to visit my sister, Hollyn, in Beirut, Lebanon, in February 2016, the world was a very different place.
Barack Obama was still our president, and the 2016 election was still crowded with hopefuls (including, to the amusement of many people in Lebanon, Donald Trump). There was obviously no sign of a global medical emergency that might shut down the planet. And despite featuring on many countries' travel advisory lists, Lebanon seemed poised for, or at least worthy of, another golden moment—back in the '60s it was a playground for the likes of Brigitte Bardot and Marlon Brando. Signs of old war (bullet holes, armed military) mingled with undeniable cosmopolitan appeal for culture and history buffs, foodies, party people and even outdoor enthusiasts.
A lot of people warned me not to go, or expressed shock that I'd willingly travel to Beirut. But truly, I have never felt more warmly welcomed in a place. When I think of Lebanon, the sweet sound of habibi rings in my ears. The Arabic word meaning "my dear" or "my love" is what I heard most, from my sister's girlfriends, from shop owners, from waitresses.
Hollyn, a humanitarian aid worker, rightly swooned over the country to which she'd moved the previous fall to work with the Syrian refugees on the northern border for the Irish NGO Concern Worldwide. Beirut, it seemed, had it all. Snow and surf, wineries and vegan eateries, high design and street art, not to mention people of all religions and languages. I heard French spoken as much as Arabic (in fact, it's referred to as the Paris of the Middle East), admired mosques and cathedrals, and learned the difference between Sunni and Shia Islam, not to mention a little about many Syrian refugees who call it home.
Stepping outside in Beirut was like stepping into a history book: Roman baths, Byzantine mosaics, underground streets, mosques, cathedrals and the ruins from a handful of eras. From the rooftop of my hotel, the exquisite Le Gray (which at the time was the most beautiful hotel I'd experienced), I could see the cerulean Mediterranean Sea and not-too-distant mountains, as well as the statuesque Blue Mosque and Roman ruins.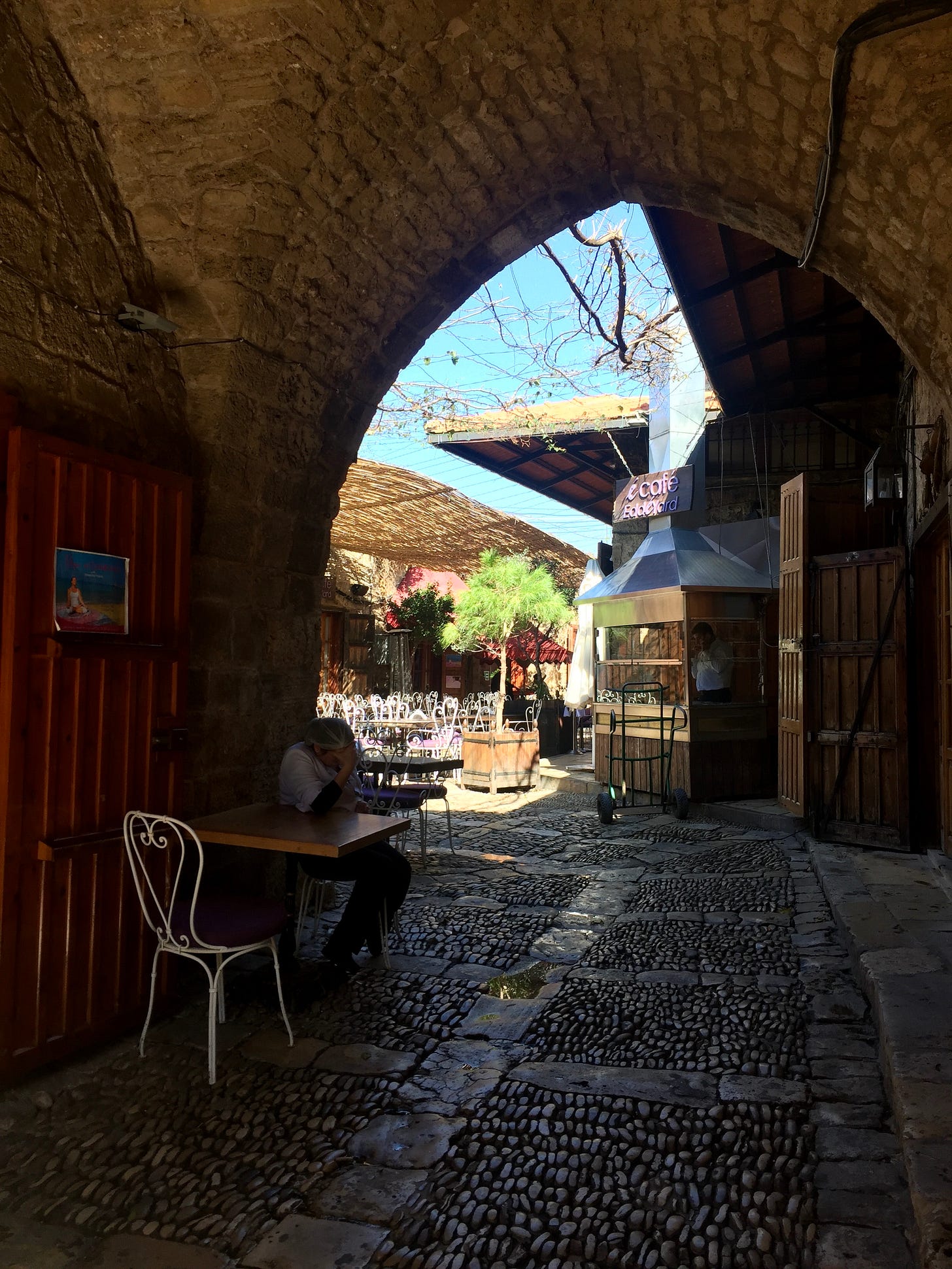 This week's horrific explosion at the Port of Beirut—the equivalent of a 3.3 magnitude earthquake that, under a mushroom cloud of smoke, shattered its way through miles of homes and buildings—is a reminder of just how instantaneously things can change. Of course, thanks in part to the pandemic and an existing economic crisis, Lebanon was not exactly in good shape beforehand either. But this blow is completely devastating.
Amid the aftermath and heartbreak, I can't stop thinking about the five days I spent soaking up all the wonders and flavors and generosity that defined Beirut. With Alya, a local friend of Hollyn's charmingly taking on the role of hostess and tour guide, we started with a surprising—since this was the middle of February, and Lebanon is not the tropics—beach day. The sun shone in Byblos (one of the oldest continually inhabited cities in the world) while we frolicked in the sand among a most diverse crowd down the coast from its historical souk and ancient seaport.
We wishfully window-shopped our way past attractive concept shops and interior design boutiques (I'm still longing for the mother-of-pearl inlay at Nada Debs) in the ochre- and salmon-hued Saifi Village, known as Le Quartier des Arts—incense wafting with us down seemingly every cobbled street. We shop-shopped in Orient 499, an airy modern artisan craft paradise where I breathlessly collected goodies to fill every crevice of my luggage. And in a gallerylike hideaway behind an unmarked door, I found myself drooling over vibrant handbags exquisitely beaded by the female prisoners and ex-prisoners who make up the Sarah's Bag social enterprise.
We went for cocktails inside trendy bars with names like Black and Wunderbar, sipping mojitos within a mess of bearded Lebanese men, felt fancy toasting bubbly on the posh Four Seasons Hotel Beirut terrace, and sweatily danced for hours at one of the city's many nightclubs (it's infamous for its nightlife scene as well as, in the summertime, rooftop lounges). We did yoga, practicing with dynamic women whose classes I'm still taking virtually on Instagram.
To this day, my obsession with Lebanese food has not dimmed. (In LA, I keep the fire alive with my local favorite, Open Sesame). Every meal in Beirut was a new sensation or adventure. We savored foul and falafel, halloumi and hommus (I'll admit, after a few days I was firmly on the side of Lebanon in the age-old battle over who's responsible for the chickpea creation). And feasted on everything from beef bulgogi (at Meat the Fish) and family-style Armenian dishes (don't miss Mayrig) to smoothie bowls (at the adorable banana leaf wallpapered cafe, Eat Sunshine) and sea bream (in the just-opened, elegant La Petite Maison).
Basically, I learned, if you have tastebuds, there are endless ways to delight them in Beirut. However diverse the city's offering (and it effortlessly moves from Sri Lankan to Mexican), though, my favorite meal was the most purely Lebanese. We joined almost a dozen friends for an incomparable Sunday feast at Nicolas Audi à la maison d'IXSIR up in the wine country of Batroun. Inside a traditional, stone-clad Lebanese house, warmed by a raging fire, we occupied a long wooden table—a couple Sunni, some Shia, Catholics, a Jew, a Syrian and a Druze, all kind, well-educated, worldly young women, up on current events.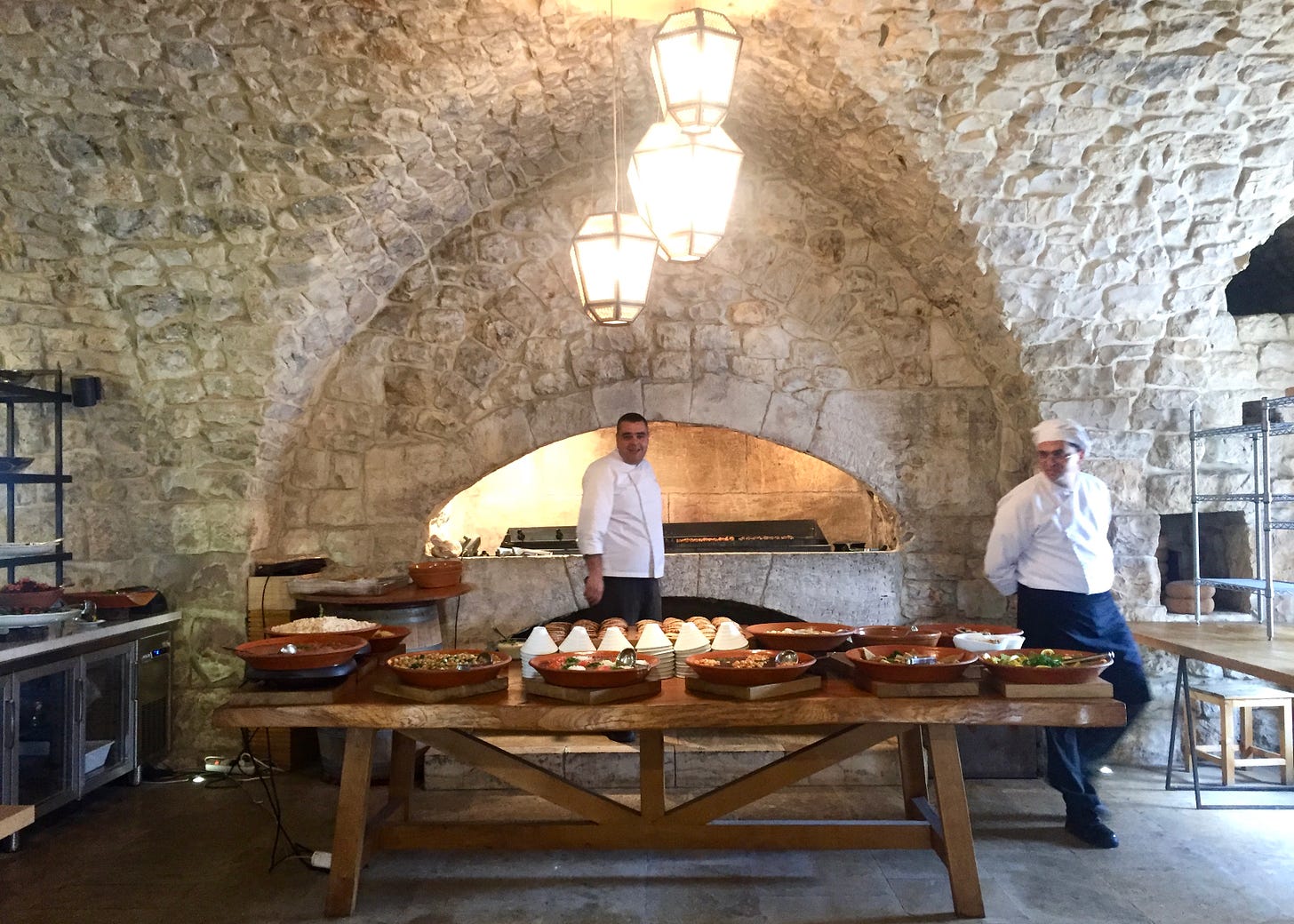 The company was as excellent as the vino, and the massive spread even more delightful. I willed my stomach to continue expanding as I returned over and over to add more savory treats, dips and bold, zesty salads. The chefs grilled skewers on the open fire, baking pita and doling out cigar-shaped flaky pastries filled with cheese. I have no idea what the desserts were, but they were more delicate and gorgeous than any I'd ever seen.
In just five days, Beirut broke open my world, widening my view tremendously. It was my first time in the Middle East, yet it felt so incredibly European. It was arguably the first place I'd gone in defiance of travel advisories, yet I never felt in any danger. It was a part of the world so many think is somber, conservative, and serious. Yet there I was, wrapped up in laughter, light and love. My eyes were stimulated by the beauty and history all around, my mouth excited by new tastes, and my heart energized by warm new friends. I could not wait to spread the word, and return, and I pitched all my editors, eventually writing several stories, including one for AFAR.
Tragically, this week's events force any hopeful visits quite a bit into the future. The work that must be done may seem insurmountable, but if anyone can do it, it's the Lebanese who in enduring so much have become so incredibly resilient. In the meantime, as the country rebuilds, I'll be rooting from across the ocean, donating, and dreaming of beautiful Beirut.