Journeys No. 21: Los Angeles, California
A series of sweet and safe staycations, from Malibu to Downtown.
Please pardon the lapse in newsletters as I've been hard at work these last few months with my fellow travel writer, Eric Rosen, on a brand-new podcast. We launched Conscious Traveler last week, and I'd be thrilled if you'd listen and let me know what you think! (It's on Apple Podcasts, Spotify and more.) Today's episode is about one of my favorite Southeast Asian destinations, Luang Prabang, Laos.
Staycation, Had to Get Away
So much has happened in 2020. To many I know it feels all bad. But to me—and my soulmate, Keith—it's actually been the most exceptional year, full of hope and love. We got engaged and are planning our dream wedding in Careyes, Mexico, for 2022 (the pandemic did affect our timing, but we won't let it stop us). And we're counting down the days until our daughter arrives, in February 2021! I always knew pregnancy would mean slowing down on the nonstop travel, but COVID has slowed it to way more of a snail's crawl than I could have ever anticipated.
In order to scratch the travel itch (and, let's be honest, habit), we've been carefully embarking on a series of short staycations in a few different parts of Los Angeles, exploring other 'hoods and assimilating for brief stints into disparate environments and yes, cultures—just as one would in another country. This may be on a smaller and less dramatic scale, but it's offered fresh experiences all the same.
We started our local adventures by driving a few miles to the legendary "pink palace," aka The Beverly Hills Hotel, which ironically foreshadowed our own move into a little pink house a few weeks later. It was Keith's first time there, and my first as an overnight guest—I've previously enjoyed McCarthy Salads and martinis at the legendary Polo Lounge. Any worries were quickly assuaged by perfectly PPE'ed staff and a proliferation of chic pale pink hand sanitizer dispensers. In our room, cellophane-wrapped fruit awaited us and fresh, fluffy robes awaited us. By the pool, a sea of crisp striped chaise loungers, well spaced beneath banana leaf–printed umbrellas seemed to anticipate our arrival and desire to stay far away from other guests. The aquamarine pool, a luxurious 60 feet long, assured the integrity of our personal bubbles, too.
While there were other guests around, it wasn't enough to make us nervous. And for this unprecedented time, the hotel has created some tailor-made options that pamper with lots of privacy. These experiences include a lush Champagne bath experience, in-suite wine and cheese tasting and DIY cocktail making session. What really spoke to us, though, was the sun-dappled Pink Palace Picnic, which we discovered set up for us down a tropical path in the Crystal Garden, a bucolic wedding venue. Sprawled on a rose-colored blanket, we were surrounded by trays heavy with gorgeous dishes bearing cheese and charcuterie, tea sandwiches, prawn cocktail skewers, a tower of decadent desserts and maybe the best hummus and naan I've ever tasted. A throwback playlist of New Kids on the Block and Backstreet Boys played over a banana leaf–print speaker, and we got lost in the romance of our slow lunch in nature.
If success in 2020 can be measured in blissful moments you forget about the pandemic, then these staycations of ours have been off the charts. Sure, I had to put on my mask to walk to the restroom when we had the pleasure of hanging out in the adorably kitted-out Gray Malin Cabana the next day. But here I was feeling fancy in an elegant, manicured place totally unique to my home, with a waiter occasionally bringing 'round miniature banana peach smoothies and piña colada ice cream sandwiches. I was doing yoga on a mat printed in the ubiquitous leaves that somehow never get old, and getting to relax in a luxuriously oversized bathtub. We were having breakfast delivered to our room on a white tablecloth, eating blueberry pancakes in plush robes. It's these little things that add up to create sensations of excitement and newness so central to travel.
I felt equally outside my usual environment when we decamped briefly downtown at Hotel Figueroa, whose story also goes back almost 100 years. The DTLA staple has since been spiffed up—with an outsized collection of local art in its soaring lobby and a Klein blue–hued exterior mural by Bella Gomez that I now wear daily in the form of a gifted mask—but originally was erected by the YWCA as a safe haven for solo female travelers in the '20s. The bustle of a metropolis was evident as we pulled up, yet within the property and, admittedly, especially around the original coffin-shaped pool, hidden by 70-year-old cacti, things felt quite chilled out. It's an urban jungle in the truest sense. With exceptional cleaning and safety protocols, the hotel never actually closed due to COVID, and has continued to come up with special ways to serve the SoCal community, like with a 26% discount for California residents, an under-the-stars drive-in movie series showcasing BIPOC and LGBTQ stories, and distanced outdoor yoga and Pilates classes.
It's of course been ages since I've been in a museum or gallery, but wandering through the hotel's lofty public spaces felt a bit like that, an injection of energy and delight that comes with taking in fresh forms of expression. More recently another Downtown LA experience, at The Hoxton, gave us a splash of that cosmopolitan feeling, not only thanks to skyline views but Sunday morning church bells that had both Keith and myself momentarily questioning if we had been transported to a classic, old European city.
In The Fig's vivid yet sanitized urban setting we lazed, munching fish tacos and squash blossom quesadillas from perhaps the safest-feeling eatery I've yet experienced. To minimize contact as much as possible, Veranda restaurant has become Veranda Al Fresco, in which guests scan the QR code on their particular numbered lounge chair or seat to place orders on their smartphones, all but eliminating face to face contact until the food and cocktails (and even mocktails, with exotic ingredients that felt like a vacation) is delivered essentially to your lap. Two-hour pool sessions are also scheduled, to limit any potential for crowds.
During COVID times, surprises aren't exactly relished, but we got a lovely one while watching the city go by through a window in our bathrobes. This is when it pays to be vocal on Instagram about your affection for pizza. The chef knocked on our door with two pies that riffed off the Mexican theme of Veranda—one particularly dimensional with pepperoni, sweet tomatoes and jalapeños. Pizza wasn't on the menu, and it most definitely wasn't expected, but we savored our delicious turn of events, so often a sign that things are going right on a trip.
For a very different kind of energy and view, we headed out to Malibu for a mellow weekday stay just across the PCH from my happy place, the ocean. Under normal circumstances I wouldn't dream of heading to Malibu without my longboard in tow, but by this point my belly was too big to think of smushing it under me to paddle into a crowded lineup filled with unintended party waves. It was hard to ignore the quiver full of fun boards The Surfrider Malibu loans out to its guests for free, but my consolation prize was a trip out on one of their stand-up paddle boards, where I happily watched the surfers dance across the green waves on repeat from a safe distance.
The Surfrider is a special spot thanks to its talented young owners, Emma and Matt Goodwin, having taken it from rundown motel to exquisitely curated 20-room boutique hotel just three years ago. Energetically, from the minimalist wood decor (by local furniture makers Crofthouse) and breezy architecture to the friendly staff, it feels designed specifically with bliss in mind. Fragrances of bergamot and cassis drifted from the custom-made 'Malibu' candle in our room, setting a calming tone that extended to the large balcony's cushy lounge chairs, pristine Pacific Ocean view and, most importantly to me, a hammock. In this minimalist bohemian wonderland, the buriti palm hammocks are each handwoven over the course of four months by Amazonian rainforest artisans. (For anyone who can't make it there in person, I highly recommend checking out these items on their online shop.)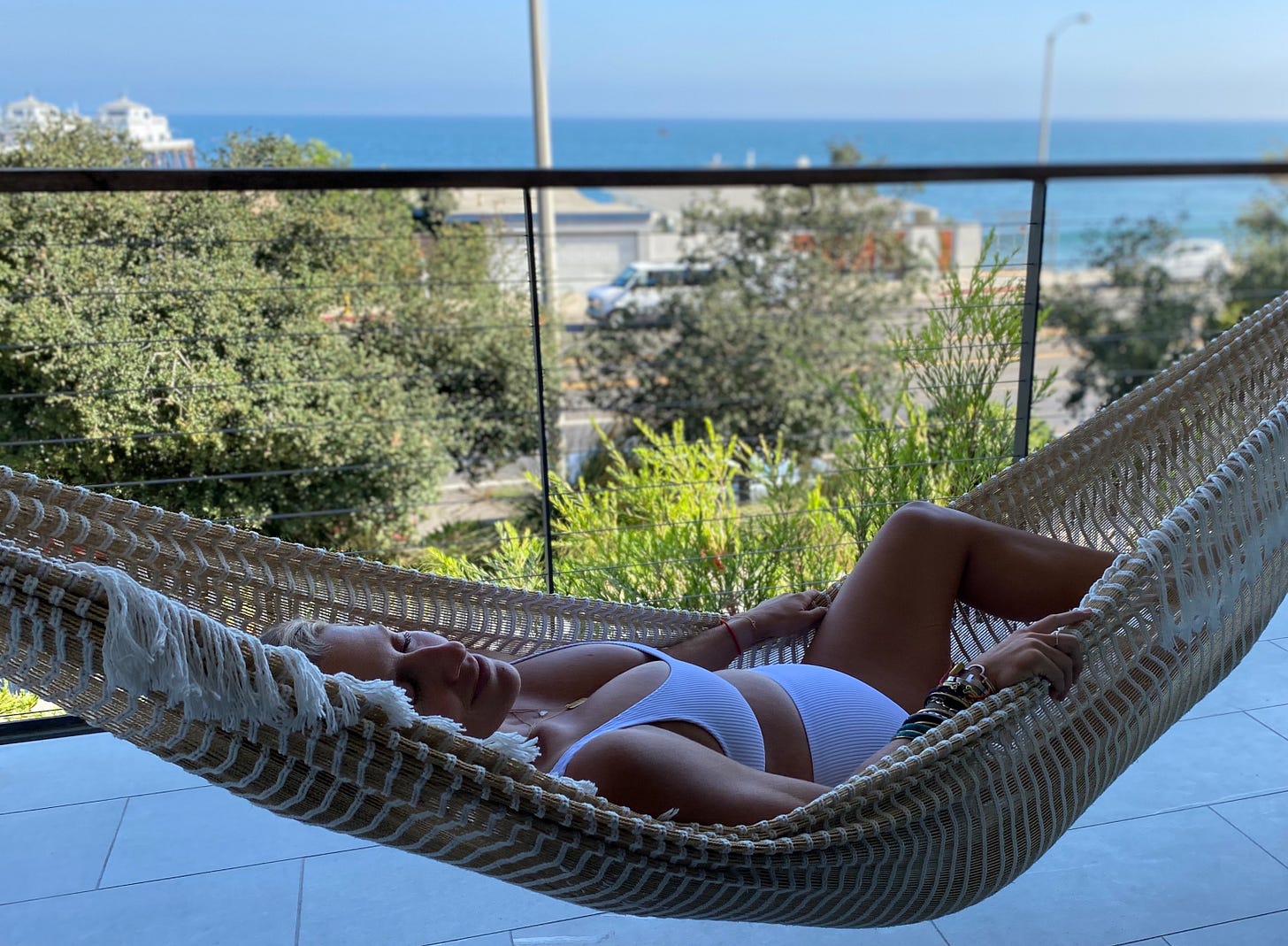 A stint here is like being inside a dream world in which we've somehow been blessed with our very own beach house, complete with chef Jacob doling out beautiful dishes at our pleasure on the rooftop. The guests-only roof, replete with fire pit, umbrellas and chairs that invite you to sit back and sink in, is where we munched brekky burritos and avocado smash under a thick, romantic morning fog, which eventually floated away to allow sunshine to spotlight the growing swell and appreciative surfers. (I reconnected with my camera on this trip, finding inspiration everywhere.) It's where I devoured a Farm Salad made extra delightful by spring peas and JJ's Lone Daughter Ranch's cara cara citrus under a brilliant blue sky. And where under the stars we primed our palettes with the most beautiful scoop of wattleseed- and wildflower-dusted butter and Gjusta bread before tucking into hand-cut spaghetti with Pacific Coast crab and Captain Ben from Wild Local Seafood's slow-baked catch of the day, in a lobster broth with sweet corn—organic, as everything served is.
It turns out The Surfrider isn't only home to beach holidays but foodie ones, too. (Good thing I'm eating for two!) With a little more motivation or time perhaps we would escaped in a complimentary hybrid Mini Cooper to hike Tuna Canyon or Pt. Dume, per the helpful and cute Malibu guide given to us at check-in, or taken a market picnic to a lookout for sunset. (In non-pandemic times it's likely I'd book an in-room massage and we'd stroll through the Getty Villa or around the Eames House.) In fact, our most ambitious feats were paddle boarding and swimming in the sea just across the street. But as I'm learning about staycations, at least these days, it's not about how much you do, but how much you've let go. The beauty is not in a packed itinerary, it's in peace—soaking up a fresh environment, reading a good book, and letting someone else do the cooking!
Further reading:
If you're local, read about delicious pop-up outdoor dining experiences in both Southern and Northern California.
Step inside actors Anna Paquin's and Stephen Moyer's meaningful Venice home.