No. 15: Nairobi, Kenya
The greatest adventure of all: my sister's home birth in Kenya
The Journey of a Lifetime
The last five years, my life has revolved around going places—the more Edenic, off-the-beaten-track and unknown the better. Setting off for a long trip amid a new landscape thrills me, each surprise encountered or uncovered brings me joy. But bliss, I've recently found, is not only attainable on a so-called adventure. Knowledge is not only gained on the road.
What this time of forced hibernation is teaching me is that experiences are not only results of traditional journeys. Days ago I had the most extraordinary experience of my 36 years, watching a new life enter this world—all without leaving the house.
I've been sheltering in place and social distancing in Nairobi, Kenya, since the middle of March. I'd rushed here early, under looming travel bans, when my sister was 38 weeks pregnant. For the foreseeable, I'm not going anywhere. In fact, for the longest period in my entire life, I've not traveled in a motorized vehicle of any kind. These days I'm propelled only by my two feet—and it feels good. (When I finally did have to drive a car this week, in pursuit of supplies, it actually felt unnatural, and oddly serene given Nairobi's normally nightmarish traffic.)
Our days have been human-powered. Our legs propelled us on 5km walks through the neighborhood as we waited for baby boy to join us. Walks so beautifully monotonous that they became incredibly the opposite. With enough time and quiet, one can find magic in the mundane. As a journalist I pride myself on noticing tiny details, and that skill has become so honed I now inspect the architecture of new growth on different types of palms, rejoice when surprising flowers burst from a plant barren just 12 hours earlier, and feel mildly intoxicated when each fresh bloom folds open on the sweet-smelling angel's tears trees. I research species, photograph everything, study, observe. In the mornings I relish the water droplets on leaves; during golden hour I appreciate how everything seems lit from within. Repeating the same route over and over has opened my eyes. I should know every inch of this environment, but as is true with everything natural, living and breathing, it's changing too quickly.
Because actually, while the size of my world may have physically shrunk in recent weeks, measured not in thousands of miles now but square feet, it's expanded tremendously thanks to new life. Time has also become quite elastic. After anticipating any little sign of the start of labor for days (and being tricked on several of them by mellow contractions), things kind of sped by when it actually began. As part of my sister's birth team, I'd helped prep the living room—fresh tuberose stems, scented candles and tea lights surrounded the birthing pool for which our dad spent six straight hours boiling water in the kitchen when the water heater failed.
Childbirth is the most natural process in the world, but truly appeared supernatural from my point of view. My slightly type-A, ultra-athletic sister, who can swim miles and walk clear across a gym upside-down in handstand, gave up control and slipped into a state of Zen I've never seen from her. Even as active labor kicked off with vomiting, she stayed calm and cool as a cucumber, coached beautifully by her Kenyan midwife and doula, encouraged along by her partner and myself. As much as one can without feeling it firsthand, I understand now why it's called labor. Through the fatigue, sweat, pain and pushing, she embodied serenity. As she said later, she's coachable. Shockingly uncomplaining. I've never witnessed so intimately how the female body shape-shifts. I was in awe, pride swelling in my heart. She requested for water with a "please" up to the end and, in unintentional moments of levity, asked the midwife occasionally if we could take a break.
I think she felt the pushing was infinite. "You're so close!" we promised, hour after hour. Not intentionally lying, but feeling for sure it must happen soon. As I discovered, it is not like you see in the movies. Progress is slow—very slow. (Even as it was fast, compared to most first-time moms.) Finally, with every last ounce of her remaining shaky-legged strength, he emerged underwater, shrouded in his amniotic sac. For a baby who'd hidden his face in each ultrasound, he kept the mystery up as long as he could. Breaking through and clinging to his mama's chest, he looked truly alien—a shocking shade of blue that, like magic, morphed before our eyes into one perfectly creamy complexion. Eyes searching, curious and open to the world. Miniature toenails on long feet, and ears that seemed to unfold like a flower.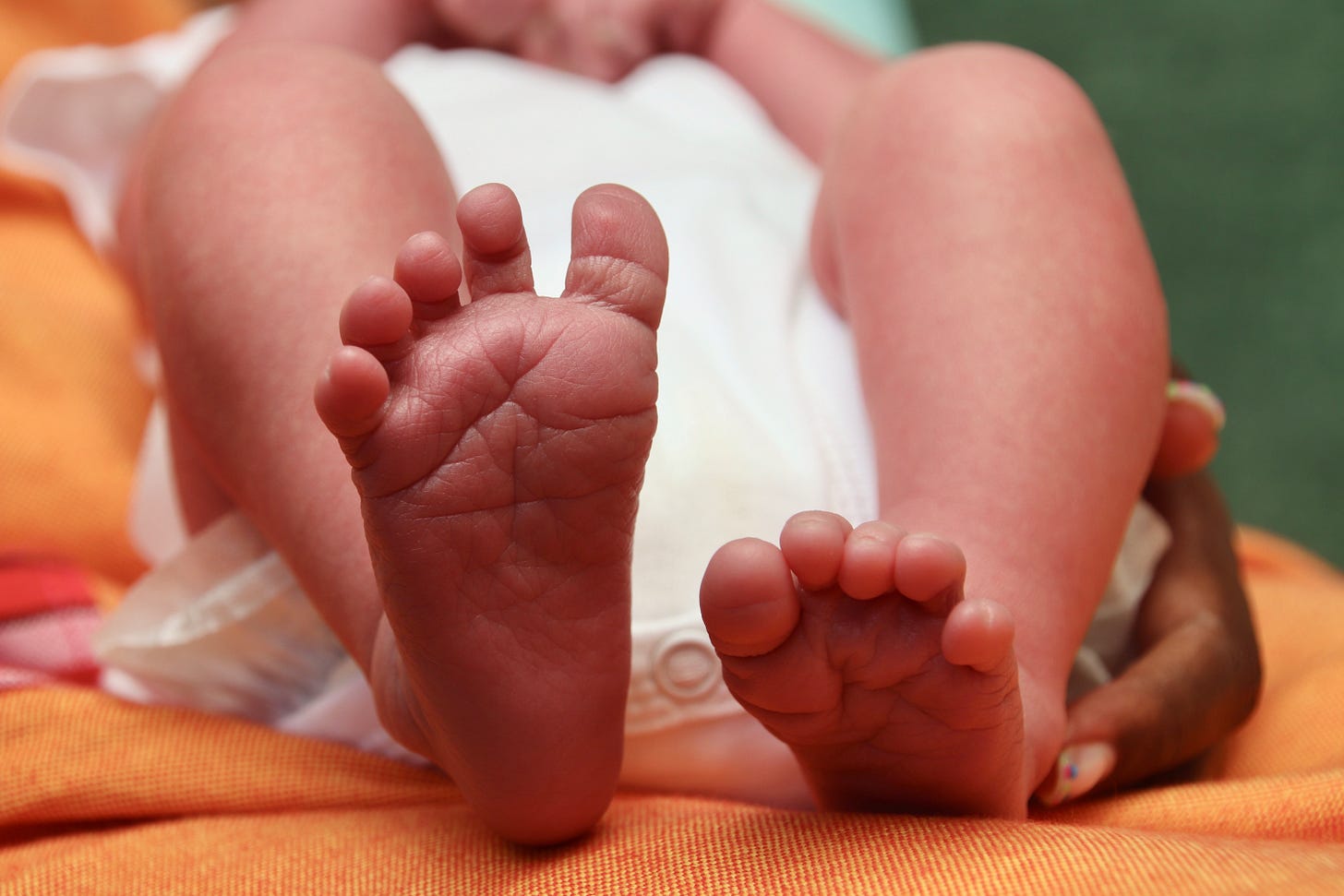 I know this isn't a new revelation to anyone who's had a child, but I am still astonished at how instantly and completely his presence changed everything. Atlas, as he was named a couple days later, doesn't even feel new. It's tough to imagine a time he wasn't here. In the blink of an eye Atlas secured his place in the universe, choosing what I think is the most perfect moment to grace us with his luminous spirit, his pure loving light. He's everything, and I'm love struck.
We called him Mr. Baby for the first two and a half days, but I think Atlas is far more appropriate. The Greek titan who held the world on his shoulders. The oversized books of maps we studied as kids, helping navigate around the East Coast on family road trips. He's already strong (the kicks in utero foreshadowed it), worldly (he'll hold U.S. and Australian passports, plus have residency in Kenya), unflappable and handsome. A true original. An actual bundle of joy. I see him growing into a curious, outdoorsy soul who garners and gives respect and easily belongs everywhere he goes. Not just carrying the weight of the world, but bettering it.
But I'm not in a hurry for him to grow. We are all savoring every hour—every minute. Each coo and giggle, smile and smirk, that new baby smell and unimaginable softness of his skin and the almost imperceptible fuzz on it. Now is our time to be present, swaddled like Atlas in our private little universe inside the fence.
Now I'm taking him on "nature walks" in the yard, my dad—aka babu, Swahili for grandfather—identifying the multitude of vibrant trees and flowers via iPhone app. I'm learning the ways of Kenyans, slowly, by spending hours with my sister's midwife and doula. They are like encyclopedias. I'm essentially in baby bootcamp, soaking up decades of tips, tricks and knowledge, burps and diaper changes and coconut oil baths. I'll certainly be prepared when it's my turn!
These days I'm counting my blessings not by the number of exotic trips on my calendar, but by the time I get to spend staring into Atlas' eyes, awed by his exquisite cupid's bow. In this house, enveloped by lush, electric green; hugging a glittering pond and protected (I like to think) by a troop of monkeys and loud, squawking birds, I'm able to squeeze not only my sister and Atlas, but my dad. Not since I was a teenager—when I by no means appreciated anyone or anything as much as I do now—have I lived in a house with my family, let alone spent so much quality time cooking and eating, laughing, playing games and walking with them. We are missing two important people, however: My mother is home in Georgia, and my boyfriend is sheltering and working from home in LA, with our jungle of plants and video dates as company.
I call myself a world traveler, even now. Merriam-Webster defines "world" in more than a dozen ways, actually. My favorite in this moment is "the sphere or scene of one's life and action." For now, it's here. And no matter how small, how intimate physically, it's still possible to feel an expansiveness, whether created by a person or streaming video from halfway around the planet. I believe I've learned as much if not more in recent weeks than I would flying around to new places. And this knowledge—and hope—I've gained feels very important indeed.
Escape…
If you're feeling your sphere is currently too small, you can broaden it virtually with some pretty cool streaming and IG Live opportunities provided by hotels and conservation companies. So many are embracing the chance to share their unique programming with people who previously might never have the chance to experience it firsthand. In this way the hospitality industry is striving to stay alive through generosity. The first I discovered was Singita, who's sharing safari game drives on Instagram that feel incredibly like the real thing and are simultaneously adventurous and calming. I'm loving that I can revisit Nihi Sumba, a gorgeous property on Indonesia's Sumba Island, via streaming everything from tarot card readings to arts and crafts and authentic looks at the local culture. Wilderness Safaris, with whom I've had indelible encounters in Botswana and Rwanda, is offering up recipes and cooking sessions from their camps. Napa's Round Pond Estate is hosting virtual sommelier-led wine tastings; Victoria, Australia, has a plethora of tours from art galleries to penguin burrow cams; Rosewood Mayakoba in Mexico is bringing their kids club and spa to virtual life; and Arizona's Mii Amo is producing guided meditation videos every Monday on Instagram. Some are even offering very generous deals for those already eagerly planning for the future. Casa Palopó, for example, a dreamy boutique hotel with incomparable views of Lake Atitlán, is supporting its staff with an "act now, travel later" initiative of one free night for every paid night booked, plus two massages. If you can swing it, I'd also recommend the optional $20 donation for Pintando Santa Catarina—you can read all about the inspiring project here…and daydream of your next colorful trip.