No. 18: Flying in a Covid-19 World
My 40-hour voyage from Nairobi to Los Angeles
The Long Way Home
Air travel these days is an emotional doozy.
It only took a devastating pandemic to turn flying into a totally foreign act. I should know, as someone who once—in what now seems like another lifetime—took part quite freely and frequently, and has now felt the seismic shift of moving from one continent to another in this strange, scary time. What used to be rather fun is now, honestly, a bit frightening.
After a month of defeat, booking flights that over and over again were canceled due to mysterious extensions to Kenya's travel ban, I caved and grabbed a spot on the next repatriation flight announced by the U.S. Embassy, from Nairobi to London's Heathrow Airport. It was a specially arranged trip operated by Kenya Airways, and subject to sufficient demand—and a medical certificate confirming I was coronavirus-free, included in the inflated ticket price.
I spent the next week preparing under the assumption there would be enough people to justify the flight and, most importantly, that my test would be negative. A little voice in my head kept nagging, though, What if I have it and I'm just asymptomatic!? I was admittedly a little frantic, trying to get every last cuddle in with my six-week-old nephew, Atlas, while worrying about what the journey home could possibly entail. The world was on lockdown, it was not a hospitable destination.
Just to make this voyage more challenging, the best connection I could find required a 19-hour layover. I'd emailed the surprisingly helpful Heathrow Airport customer service only to find out that all lounges and airport hotels were closed, and only four total cafes and convenience shops were operating. After much research I found a single nearby hotel that was open. At the same time, PM Boris Johnson made a confusing proclamation about all travelers into the UK being subject to mandatory 14-day quarantine. Did that apply to transit passengers? I had no idea, and could not for the life of me find out for sure.
The coronavirus test had to happen close to departure, at a particular lab not too far from my sister's house. With the flight Thursday morning, I went before lunch on Tuesday, and she came along as moral support, holding my hand as the male nurse explained he was going to insert an impossibly long Q-tip deep into my nose and hold it there for 20 seconds. "Will it hurt?" I asked. He paused before replying, "It is not nice." He was right. It felt like it reached my brain and, though it wasn't painful, my sister was traumatized. My results were due back in 24 hours, and the packing continued.
One last blissful walk in a damp Karura Forest (where our temperatures were taken before being allowed in) was an antidote to my rising travel anxiety until I realized it had been more than 24 hours and still no result. I called the lab and, after repeating my name and date of birth a couple times, was assured I'd find the certificate in my email within 30 minutes. What arrived belonged to a man named Joseph, who was apparently also born in 1983. I won't waste more time explaining the next few frustrating calls (or the conspiracy theory I worked up in my head meanwhile, when the Kenya Airways website was down and phone wasn't working, that the airline must have suddenly gone under). Ultimately, it was 8 p.m. when I discovered that SARS-CoV-2 was not detected in my sample and thus I would in fact be heading to the airport 10 hours later.
On the tearful yet shockingly efficient drive (Nairobi's legendarily terrible traffic has benefited from movement restrictions), something large and black hit the windshield then bounced off—a bird. Was it a bad omen, I wondered? I watched the huge and fiery African sun rise over the horizon through the glass. The outside of Nairobi's Jomo Kenyatta International Airport looked like a highly guarded laboratory, staff in full PPE (masks, plastic aprons, goggles, hairnets and gloves) wielding digital thermometers and even a soldier with a large rifle. Tears were rolling from my red eyes down into my mask (great for hiding ugly crying, as it turns out) when my temperature was first clocked at 34.6 degrees Celsius in the distanced line. A few minutes later it was 35.5. Eventually, I was allowed inside the somber, sparsely populated check-in area.
I will say this, it may be scary to fly right now, but it sure is efficient. The standard tasks are performed quickly, as everyone wants to minimize contact and time spent within spraying distance of others. Hand sanitizer was everywhere (though I didn't see any cleaning staff in the act), and people moved out of the way for each other as if we all had Ebola. There was an unnatural quiet as we streamed through a single lane of security. I gingerly picked up a few bottles of water for the trip with my gloved hands at Duty Free, wondering who else had touched them and what they had. (I skipped treats since I'd packed snacks.) Fortunately, the checkout guy lathered up with sanitizer before scanning, bagging and sealing my purchase, and I breathed a sigh of relief.
The biggest difference between being in an airport during pre-Covid times and post-, I realized as I walked, was the mood. It was missing that buzz of excitement that is signature to a place that's routinely the gateway to holidays and adventure. Instead, a palpable dread loomed. No one was having any fun at all.
As I looked around the terminal, at silent people well spaced in rows of chairs, I began feeling uneasy about just how full this flight was looking. I peeked into the tiny, lone coffee shop to find folks packed like sardines—at least from a social distancing perspective. What would have been a perfectly normal scene three months ago now seemed dangerous. I stuck with my water. We began filing into the waiting room (fortunately I wasn't chosen for more potentially germ-filled bag checks) to continue waiting, in closer quarters. There, the number of bodies combined with a lack of air flow and my mask, latex gloves and socks to create a bit of panic and, I wondered, maybe even a fever. I was unsettled, and my feet were burning up.
I stood there, sweating, as the scheduled boarding time came and went. Forty-five minutes later they called priority boarding and, armed with disinfectant wipes, I headed to my business class seat. It was a splurge I'd made for several reasons: because it was just $240 more than economy (for a nine-hour flight!) and guaranteed me quite a bit more personal, hopefully virus-free space. Still, I was admittedly shocked when a masked man settled into the aisle seat beside me. It was far closer than I'd been with any stranger for months, and I was not into it. But it wasn't until I used the restroom that I realized how fortunate I was for snagging that spot early: Every seat in that Boeing 787-8 Dreamliner was occupied.
Save the extensive protective gear on passengers and crew, it almost felt like a normal flight, with real (and quite delicious) food and full beverage service and the standard disinfectant spray parade before takeoff. The service—by Kenya Airways staff who before every repatriation and medical supply drop flight had been tested, and after each quarantined for 14 days—was gracious and friendly even with a bit more physical distance. The standard noise-canceling headphones were nowhere to be found, and when I inquired, a flight attendant explained they'd done away with anything people touched frequently that could not be sufficiently sterilized. Blankets were also conspicuously absent. Does that give anyone else serious heebie-jeebies in retrospect? It felt like a being a subject in a great big experiment.
I wore my mask the entire time, and kept a little bottle of sanitizer in the cupholder beside me, which I used hourly. I did indulge in the fluffy pillow, which I topped with a sweatshirt as an extra layer of protection. Toward the end of what I have to admit was quite a comfortable flight, there was a public health announcement with instructions for how to "stop the spread of coronavirus."
I was frightened to enter the U.K, which at the time had the fourth highest coronavirus caseload in the world. So I changed into a medical-grade mask and fresh gloves to disembark, and entered a Terminal 2 devoid of people—gate after gate deserted. It was a ghost town, every shop shut. I felt certain the arrival wouldn't be smooth, that I'd be told I had to quarantine for two weeks, or at least be questioned about my plans. But as it turned out, the only person who spoke to me was the staffer who reminded me to remove my mask for the camera at the electronic immigration system. There was no temperature check, no query about my departure date, no stamp in my passport. It was unnerving.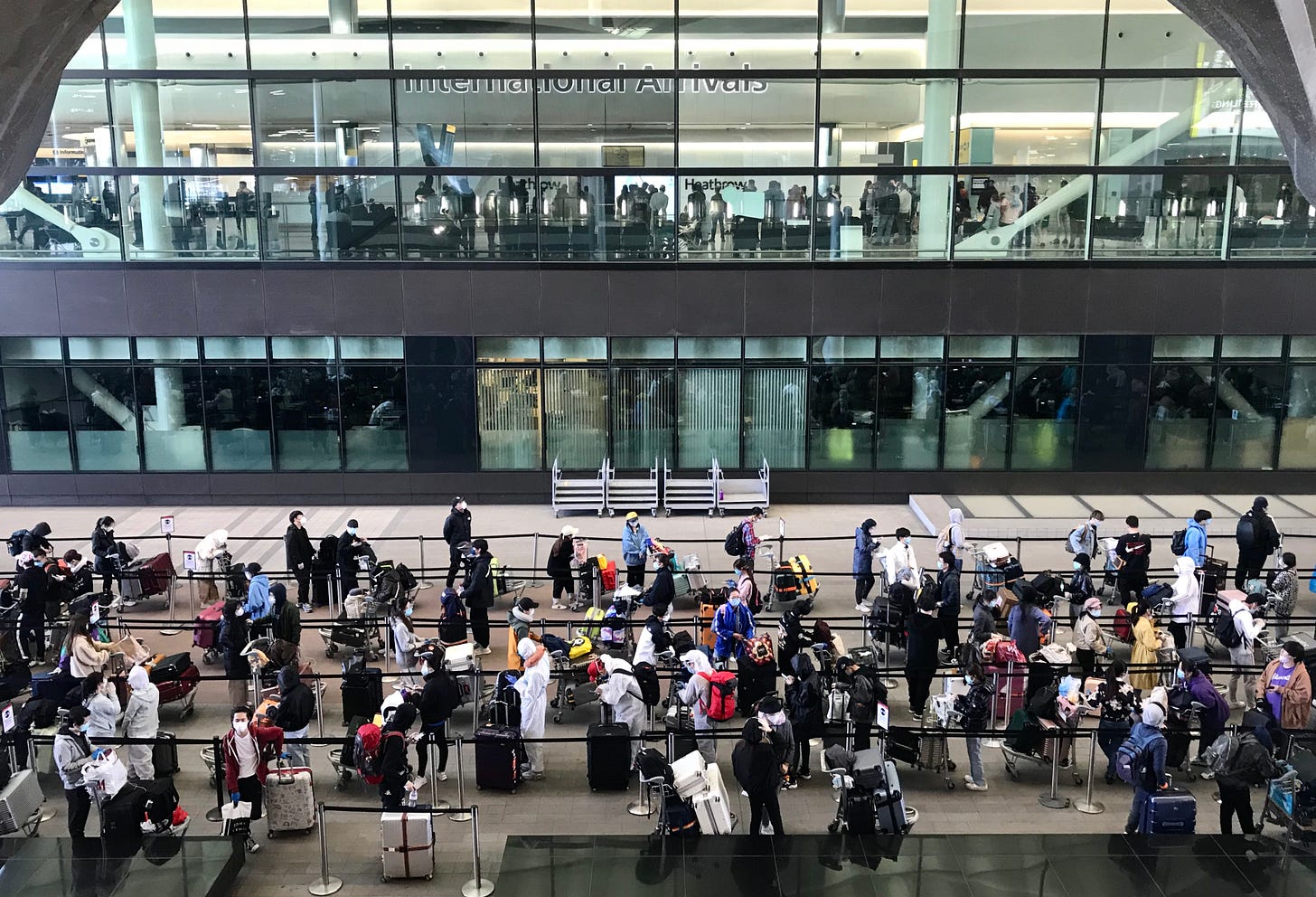 I collected my bags and walked outside thinking, Really? No one wants to know what I'm doing here? A massive queue snaked around the exterior for a flight to Shanghai, some passengers in full hazmat suits. Meanwhile, I stepped right into a taxi that apparently doubled as a time machine, because there was no sign of Covid-19. Five minutes later when we pulled up to the Ibis Styles, I felt a collection of eyes on me—a group of smokers scanned my masked face and gloved hands like I was an alien stepping off a spaceship.
A pump of hand sanitizer did not greet me at the door, like at all Kenyan businesses. The check-in staff weren't wearing masks, nor were the other guests. I used a package of Dettol wipes to disinfect all surfaces in my room, and when I discovered a short brown hair on the bed, it was far more disturbing than usual.
I passed the night as a shut-in, only emerging (mask on, of course) to order takeaway dinner from the bar, where everyone ordered from the same germy menu and some sat drinking pints at tables that were supposed to be out of use. Early in the morning I hopped in the elevator with my luggage and laughed at the sign asking people to social distance—the metallic box was way smaller than six feet, and I found myself irritated when a man presumed to enter on the second floor. Downstairs, a cheerful taxi driver offered to take my bags, but I demurred, saying I'd carry them myself—I was trying to minimize risky contact, after all. He thought I was crazy. I asked him about the lack of temperature checks at Heathrow, and he told me, "No, we don't do that in England."
Terminal 5 was dead when we pulled up, but that didn't stop him from commenting that by unloading my own luggage I was making it look like he wasn't doing his job. Inside, it was so quiet the machines had taken over—all I heard was the whirr of motors. The silence was deafening. British Airways, fortunately, was in fine form when it came to distanced check-in lines and counters. I was amazed, though that only two-thirds of the silent, unsmiling passengers were wearing masks. Didn't these people know where they were?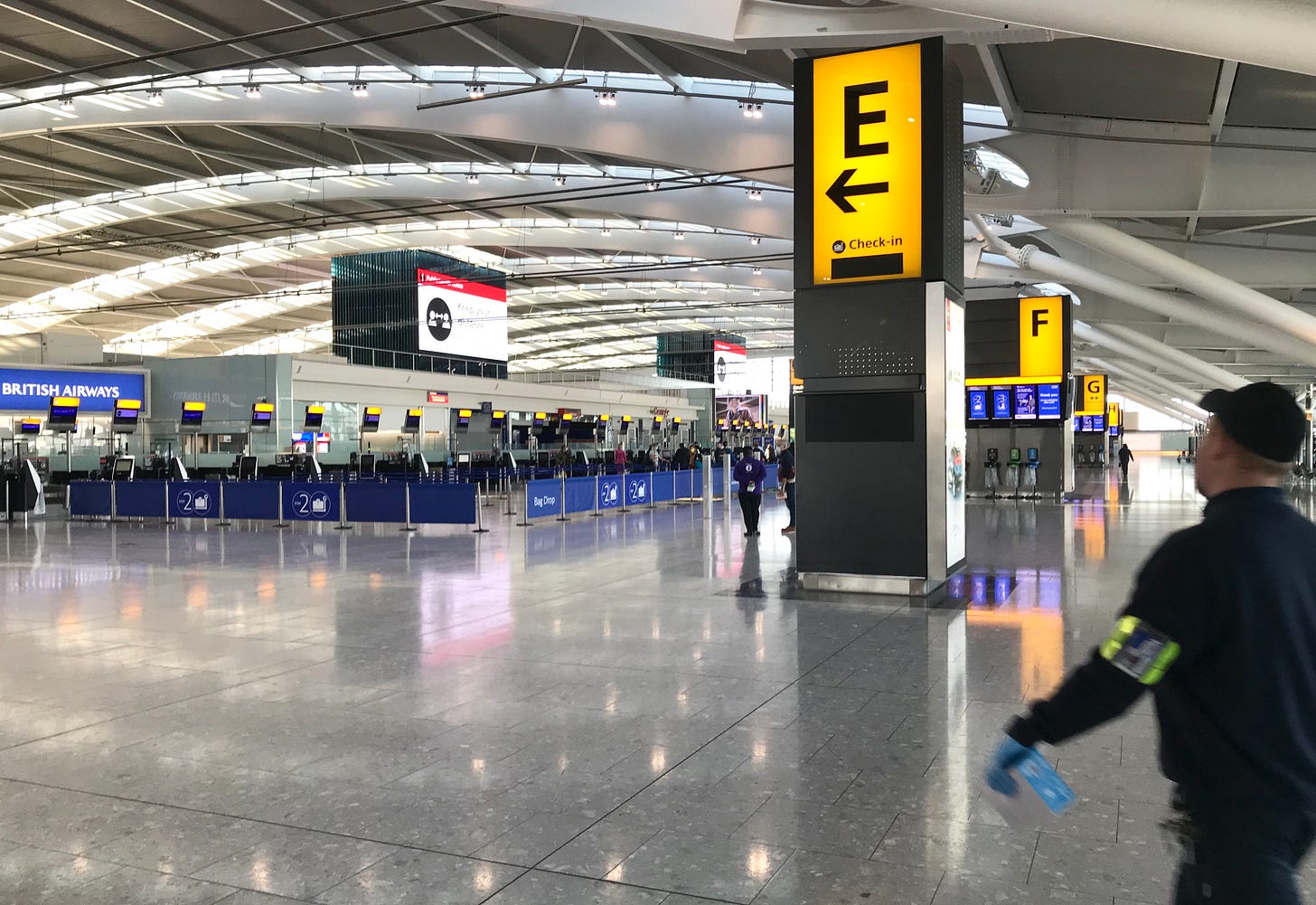 After 45 minutes, I made it to the ticket counter and, as I usually do, asked if it's a full flight. "Yeah, pretty full," the PPE-free agent told me. "Nooo!" I screamed silently to myself. "Are you blocking off middle seats?" "No." I was kind of freaking out. There are enough people in line to make this very uncomfortable, and none of them, most likely, were tested for Covid-19 three days ago like I was. Sensing my worry, the agent switched me to an aisle seat in the center section where he promised there would be no one around me, and added that my Los Angeles flight was just one of four that morning. Phew!
At security, I was relieved to see masks, gloves and hand sanitizer being used by TSA agents, plus disinfectant wipes for the bins. Ironically they were being extra strict about liquids, unpacking and repacking many bags, and I was forced to throw some of my sanitizer stash in the garbage when everything wouldn't fit in a single plastic bag. When an older man beside me whinged about having to remove his watch and shoes, a stocky agent said politely, "It's a brand new dawn, isn't it, sir? And if we want to travel, we all must adapt." Her words stuck with me, as she's surely right about the future of going places.
Word to the wise: Pack plenty of food if you're flying through Heathrow anytime soon. Nothing was open inside Terminal B, nothing at all. There were so few people milling about before boarding that I worried I was in the wrong place. What full flight? About two dozen passengers, some wearing masks, some not, eventually filed on. The first flight attendant I saw looked completely normal in that pre-corona kind of way, but a colleague quickly asked her to "pop on a mask in case you need to assist anybody." When I asked a young flight attendant, James, for permission to move rows, he laughed, "There are no full flights these days."
I told him about my journey from Kenya the previous day, how everybody had been tested. James was flabbergasted. "What? Everybody?! How is Kenya doing that and not us?" It made me feel better that I wasn't the only one who found this whole thing totally nuts.
Naturally, I wiped down my row thoroughly, while wondering if these strangers in front of and behind me healthy. But my anxiety plummeted after takeoff—I was actually finally heading home to Keith, who in advance had asked if I preferred to wait until we were in the car to kiss or if I was comfortable with a quick mask removal in the airport.
The first announcement alerted me to the fact that I was going to be pretty hungry when I landed 11 hours later. After apparently consulting with food and health experts, British Airways was serving only prepackaged snacks, soft drinks and water. (If you're someone who likes a bit of alcohol while flying, you're out of luck!) But we were welcome to eat what we brought. (In my case that meant Double Stuf Oreos.) We were asked to remain in our seats, not visit the galleys, and to press the call bell and raise our hand if we needed anything.
The food was memorable for all the wrong reasons. There was a half cheddar cheese and pickle sandwich on something called "malted brown bloomer," served with cheddar crackers, shortbread cookies and a mini Twix. I hoped a cup of tomato juice might serve as nutritional value. Before landing, flight attendants essentially tossed us each a knotted plastic bag holding more shortbread cookies, chocolate and water, plus a warm broccoli leek pastry. It was pretty clear they hoped we would place all our rubbish inside. There were short health screening forms and masks passed out to anyone who didn't have their own (an LAX requirement). The announcement before landing alerted us we would be asked to stay home for 14 days and monitor our own temperature.
We exited the gangway one at a time for a "medical check." When it was my turn, a man with a mask and face shield asked me if I had a fever. He didn't scan my forehead with one of those ubiquitous-in-Africa infrared thermometers, and I didn't pass through a thermal screening portal. He simply asked if I had a fever. I said no, and was given a postcard with a CDC website for help with self-monitoring symptoms.
Global Entry, baggage claim and customs were dead—I wouldn't have been surprised if a zombie walked by. The surreal emptiness of LAX's Tom Bradley Terminal was actually the best part of the trip, however. I walked up the ramp to arrivals, as I've done countless times, and instead of the mass of humanity waiting day and night for their loved ones, I saw a single face over the wall. Keith was there, black mask over his big smile, green eyes twinkling like he'd called in a favor and closed the terminal just for us. Without a soul in sight we went for it, throwing our arms around each other, pulling down our masks and smooching, like lovers reunited in a post-apocalyptic romantic movie. Adapting indeed!