A photo essay through the land of ancient temples, floating villages and genuine smiles
IN PICTURES
Siem Reap, Cambodia: the Khmer and Culture
Years before I landed in Cambodia, my sister spent a rewarding and eye-opening summer teaching at the Cambodian Children's Fund, in the poorest part of the country's capital of Phnom Penh. Her e-mail dispatches from that time captured me with vivid storytelling of moments in a place so poor, so scarred from violence and genocide far from forgotten, yet adorned with the biggest smiles she'd ever seen. Hollyn talked of the rainy season elevating the pretty countryside to "breathtakingly gorgeous," and the announcement of extra English classes being met by students "yelping and hollering with delight, they so genuinely want to be here."
Admittedly, the idea of a place where the people (called Khmer) focus on joy over pain, education over defeat, appealed to me. They seemed to have figured out the secret to happiness, that it's not wholly dependent on external factors. When I finally made it to Siem Reap, Cambodia's unofficial cultural capital, I realized immediately that my sister hadn't exaggerated a thing. My guide, Yous Sopanha, a former professor, was explicit in recounting his and his family's suffering by the Khmer Rouge and killing fields, but his disposition was unabashedly sunny. He could be serious, however the twinkle in his eye never dimmed as he captivated me with wide-ranging knowledge and insight. Here, a glimpse into what I discovered.
Angkor Wat, the world's largest religious monument, was built over several decades by around 20,000 people and a few thousand elephants in the early 1100s as a Hindu temple. By the end of that century it was Buddhist. At one point it was abandoned for 400 years, overgrown and occupied by wild animals. Tourists wait at daybreak to capture the iconic shot of its five-towered silhouette reflected in a cloudy lily–strewn moat, but I felt that Instagram moment was far less impressive than what's inside—intricate storytelling bas relief on sandstone.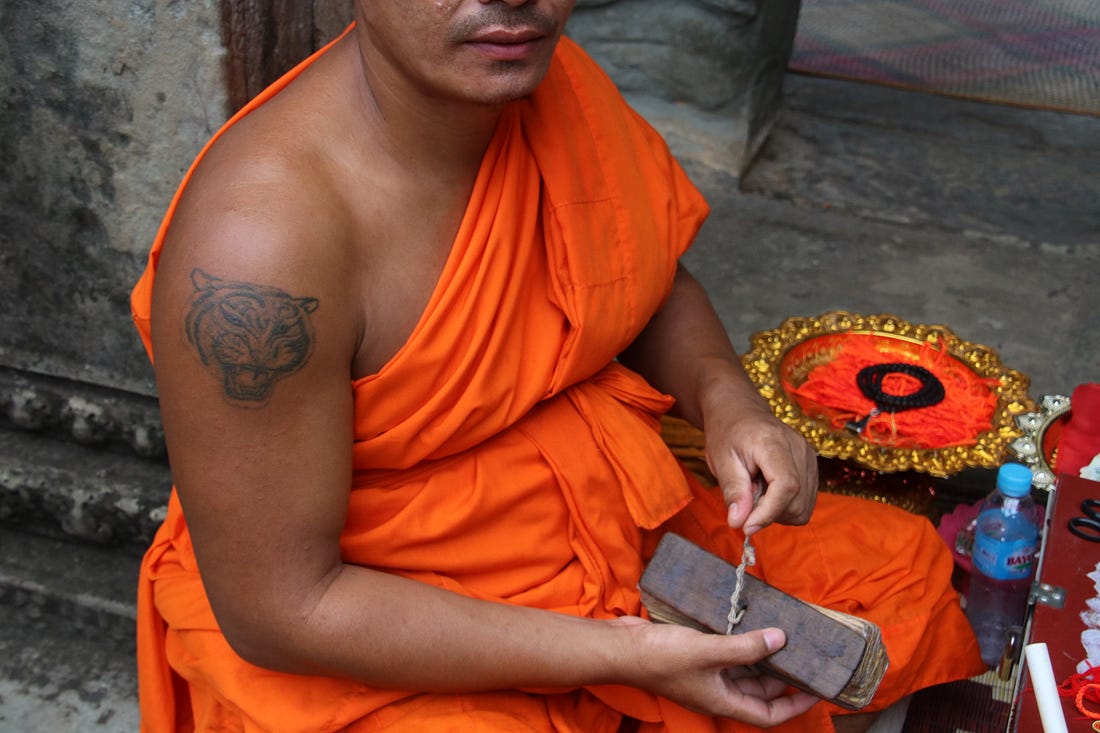 Several Buddhist monks are always on hand at Angkor Wat, ready to give a blessing to those desiring one—for a small donation. This was the first of many string bracelets I had tied on my left wrist over the course of days, each promising me good luck.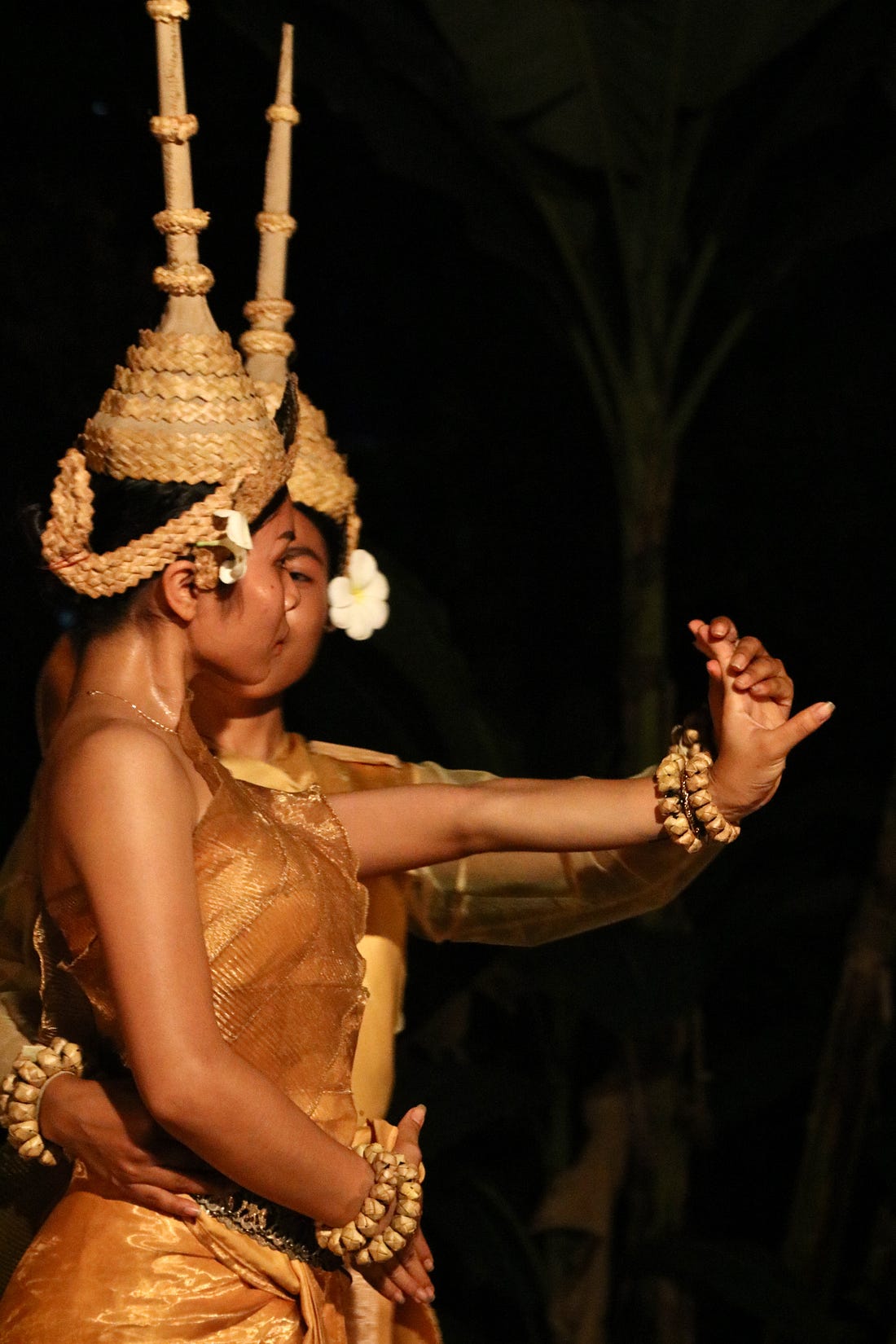 An evening performance by the Sacred Dancers of Angkor, a non-profit Khmer ballet and folk dance troupe, brought to stunning life the Apsara dancers I'd seen carved into Angkor Wat. Each of the thousands of contortionist hand gestures they use in the deliberate adagio help tell a story and express an emotion. Their poise and attention to detail is extraordinary.
Siem Reap is not short on temples—or dominating trees. Octopus-like strangler figs spread their tentacles across and through ancient architecture, becoming part of the structure. Abercrombie & Kent provided my eternally smiling, deeply passionate guide Yous Sopanha. His knowledge so enriched the experience that I'd warn against wandering without someone like him.
My favorite Southeast Asian fruit, rambutan, were peeled and waiting in my villa at the exquisite Shinta Mani Angkor — Bensley Collection, a smile-inducing display of vibrance and local history designed by Bill Bensley. (I tried frog legs for the first time, wrapped in mango, at their restaurant Kroya and, I have to admit, I'm sold.)
I hopped aboard a Helistar helicopter tour over the lush, emerald Siem Reap area and its many temples, and we ended with a flyover of Southeast Asia's largest freshwater lake, the painterly Tonlé Sap. It swells to 4,600 square miles in the wet season. On it are a handful of floating villages; the residents move locations several times a year based on water level, and to avoid typhoon or monsoon waves.
Along with a patchwork of humble but colorful homes, ubiquitous wooden boats and other creative craft (I saw three grinning little boys paddling around in half a plastic water tank), Tonlé Sap's fishing villages comprise temples and churches, floating bars featuring live crocodile attractions, food shops, floating chicken coops, petrol "stations" and many, many adorable children.
While it felt beautiful, the chalky-brown water enhancing the blue sky eerily, cruising around on a cushy luxury boat—we nibbled hors d'oeuvres and sipped white wine from the small rooftop lounge on Amansara's chic vessel—illuminated the stark contrast between my privileged life and the fragile, insecure existences of everyone around me. Their tenuous realities seemed clearly evident on the faces of somber, hardworking adults on the lake, but appeared lost on the ebullient, smiling children.
While driving through Siem Reap we passed a mass of people standing around, bags of food in their hands, babies on their hips. They were gathered around the Angkor Hospital for Children, waiting to go in and visit their sick kids. Yous Sopanha told me they come from far provinces, waiting until there are enough ill youth in one place to afford a car to bring them to the city, and later traveling long distances to visit and bring food.
My favorite temple of all is known as the Citadel of Women, and contains the most insanely exquisite carvings I've ever seen. Rendered entirely in luscious pink sandstone, Banteay Srei is 200 years older than Angkor Wat yet was only rediscovered, by the French, in 1914. Fun fact: The doorways were purposely tiny so people would have to bow when entering.
Ta Prohm is one of the temples most overtaken by nature—to a beautifully ruined effect. It's also become known as the Tomb Raider temple after Angelina Jolie filmed inside. Weaving through the growth and decay, trying to imagine the rituals and life that went on inside hundreds of years ago, is totally awe-inspiring.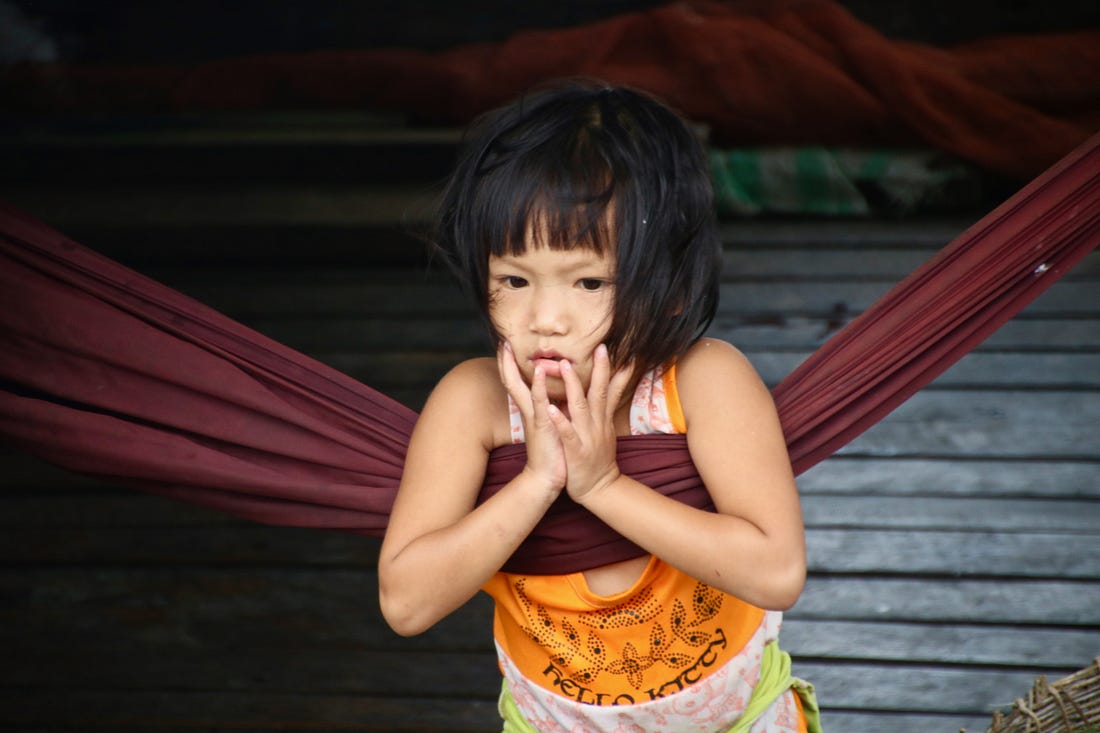 A little girl seems to ponder life on Tonlé Sap Lake.
Further reading:
J Brand cofounder Susie Crippen embarks on an African fashion adventure
In case you missed it, No. 3: Fiji